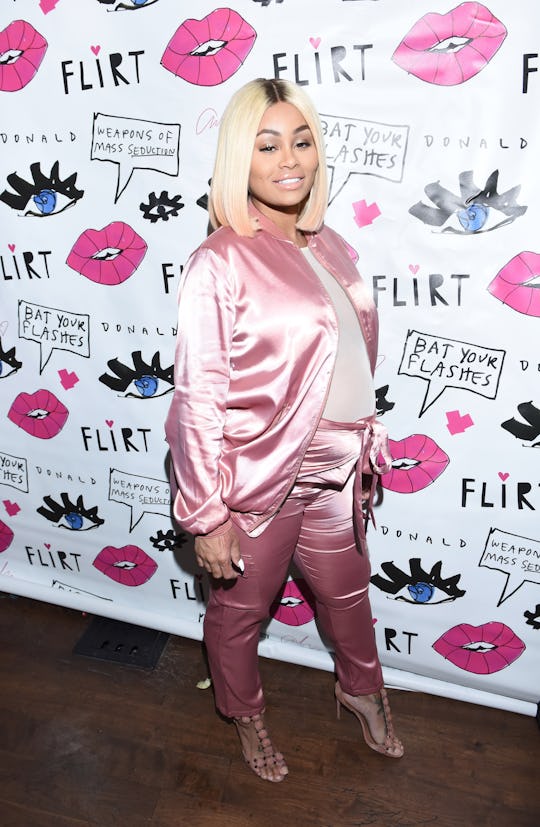 Vivien Killilea/Getty Images Entertainment/Getty Images
Blac Chyna Says Dream Looks Exactly Like Rob On Her 1-Month Birthday
New parents Blac Chyna and Rob Kardashian are totally smitten with their baby girl, Dream, and they have been posting a steady supply of sweet photos all over social media since her birth to prove it. Dream may still be new to the world, but it's already becoming clear which of her parents she is taking after more. In her most recent post in honor of the baby's 1-month birthday, Blac Chyna said Dream looks exactly like Rob — and there's definitely a strong Kardashian resemblance.
According to Us Weekly, Chyna posted a number of Snapchat clips of her little one on Sunday, and in one that she captioned, "Robs Twin," she sweetly told Dream, "you look like your daddy." That's likely to be something that Kardashian will be pretty happy about: the proud dad has also been sharing photos of his daughter on social media, showing the infant becoming wide-eyed and smiley as she's grown over the past month. And in a photo on his own Instagram page, where Dream is snuggled up and taking a nap with her soother and some stuffed toys, Kardashian shared how much he is loving fatherhood, writing that his baby girl is the "best thing that has ever happened to me in my life."
But Chyna definitely wasn't the only one to see the Kardashian genes in her daughter's face. According to Entertainment Tonight, Rob Kardashian posted a side-by-side photo to Instagram following Dream's birth, showing the newborn's resemblance to Rob's own late father, Robert Kardashian. The proud new dad was clearly touched to see so much of him in his little girl, and wrote, that Dream was "an exact copy," adding, "Pops sent us an angel. It's truly a blessing. He's happier than anyone on this day. I'm so happy and thankful GOODNIGHT."
Dream may only be 1 month old, but she's already joined the family business — as a model for Kardashian's sock line, Arthur George. According to People, Kardashian posted a video to Instagram recently showing off his daughter wearing her own Christmas-themed Arthur George socks, looking totally adorable in a white Christmas outfit, complete with a white, fluffy pom-pom headband (obviously a natural in front of the camera already). And just like the rest of her famous family, Dream is also a big hit on Instagram: not only does she have her own account, but she also has almost 800,000 followers.
In addition to her parents' posts, Dream's grandmother, Kris Jenner, reposted a photo of her newest grandchild — from Dream's own Instagram account, naturally — in honor of her one-month milestone. In the photo, the little girl can be seen lying down in a heart-patterned onesie, next to blocks that highlight her age. Which probably means it's pretty safe to assume we'll all be seeing many more of these sweet "birthday" photos as Dream grows with each passing month.
Thanks to Dream's social media-savvy parents and extended family, it's hard to believe there's much we haven't already seen about the newest Kardashian. But anyone looking for even more is in for a treat: according to People, Dream's birth will be shown in E!'s hour-long Rob & Chyna Baby Special, on Dec. 18 at 8 p.m. Eastern Time.