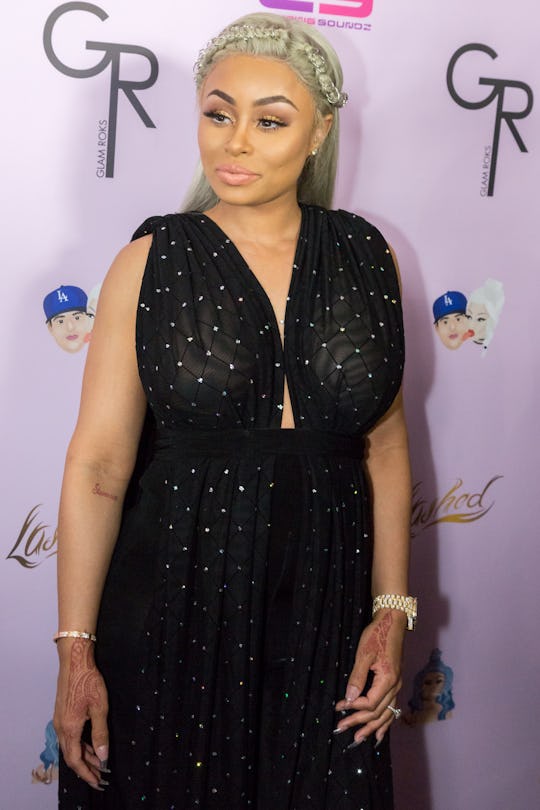 Greg Doherty/Getty Images Entertainment/Getty Images
Blac Chyna Shares A Sonogram Photo With An Honest, Touching Message
Despite the epic amounts of shade, trash talk, and clap backs, the newest Kardashian-to-be, Blac Chyna, is quickly emerging as the fan fave everyone loves to root for. She's able to strike that terribly tricky balance between sharing the most personal aspects of her life while still keeping it 110 percent real at the same time. Just today, Blac Chyna shared a sonogram photo of her and Rob Kardashian's future baby along with the sweetest message to her fans about how much she adores her oldest son, King, and her renewed belief in fairytale endings and the power of love.
"For a long time I felt like King was going to be an only child," Chyna wrote as a caption on the black and white image of her growing baby. "That he was my greatest blessing and we were gonna live happily ever after Just the 2 of us (sic), I was no longer looking for love because I thought I had all that I needed. We needed."
Here Chyna is vaguely referring to her former relationship with King's father, Tyga, who broke up with Chyna to date Kylie Jenner, which even Kim Kardashian said "completely broke Chyna's heart" on the latest episode of Keeping Up With the Kardashians.
But now, we get to watch Chyna evolve from a woman scorned to a mama finally getting her happy ending, and it just warms my cold, pessimistic heart.
Here's Chyna and Rob's baby.
"But look at God!" Chyna continued on the Instagram post. "Here I am engaged to one of the greatest men I know and who loves King and I unconditionally AND having another bundle of joy! I just want to say never give up & ALWAYS have faith because fairytales DO come true."
D'aw! So sweet.
And just for good measure, here's a cute picture Chyna shared a while ago of little King, future big brother.
So, once again, a big congrats to Chyna and Rob and the entire Kardashian clan, who will definitely continue to spin this whole situation into ratings gold. But for me, Chyna will continue to be the real hero of her own story. She's weathered heart ache and shade galore only to emerge as the lady who has it all — a loving fiancé, an eyelash empire, and a growing family. How about that for a fairytale ending? And if you're doubting the power of Chyna's ability to inspire other women to keep fighting for a "happily ever after" of their very own, hidden in the comments on the sonogram picture is all the evidence you need that Chyna speaks to plenty of women out there.
One user on Instagram "jenn_uh_ferr" saw Chyna's sonogram image, tagged her friend @_allyrodriguez and added the simple message, "we 'gon be alrightttttt."
You gotta love that.