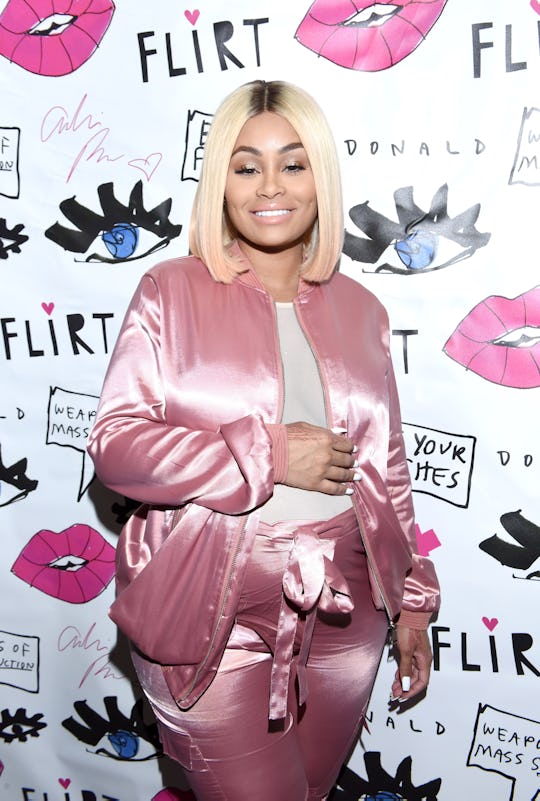 Vivien Killilea/Getty Images Entertainment/Getty Images
Blac Chyna Shares Another Picture Of Dream & It Helps #NormalizeBreastfeeding
The newest addition to the Kardashian family just joined social media in the most adorable way. On Saturday, Blac Chyna shared another picture of Dream on the newborn's already popular (and verified) Instagram account, which has more than 200,000 followers and follows only two accounts — her mom and dad, Rob Kardashian. In the adorable photo, Blac Chyna is breastfeeding her new baby girl and it helps support the movement on social media to #NormalizeBreastfeeding, regardless of whether or not it was at all intentional.
So while there are unfortunately many who may still consider it taboo for a mother to do one of the most natural things in the world she can for her child in public, the now mom-of-two's exclusive shot of her feeding and bonding with her newborn is a positive and progressive step in the right direction for the #NormalizeBreastfeeding movement.
"Morning," whoever is behind Dream's Instagram account captioned the photo, "it's bonding time with mommy!" In just a few hours, the photo garnered more than 53,000 likes and thousands of comments, both supportive and distasteful — something that is now common to expect, especially on a celebrity's social media comment section.
Some wrote that the photo was "beautiful" and a "lovely moment," while others said it was "nasty" and wrote that they "hate" seeing a mother breastfeed. But even more comments fired back at the negativity to point out that Blac Chyna is simply being a mother and caring for her baby.
Also on Saturday, Blac Chyna also shared another intimate and relatable moment when she posted a series of videos on Snapchat of the process involved in pumping breast milk.
The proud parents welcomed their baby girl — Dream Renee Kardashian — to the world on Thursday, Nov. 10, at a Los Angeles hospital. And ever since, Blac Chyna and Kardashian have wasted no time to share the exciting news, posting several adorable photos and videos of their bundle of joy on social media.
"Today was amazing :) I am so lucky!!" the proud dad captioned the first photo of Dream holding his finger while lying in a blanket. "Thank you @blacchyna for having our baby and being so strong ! I love you so much and can't wait to see her get older day by day with you Chy! I love you and Dream so much and Appreciate both of you."
Blac Chyna is one of many celebrities who have shared breastfeeding photos on social media, such as Julie Bowen, Olivia Wilde, and Pink. As celebrities use their fame as a platform to spread a positive message about breastfeeding, hopefully one day the stigma will be a thing of the past.