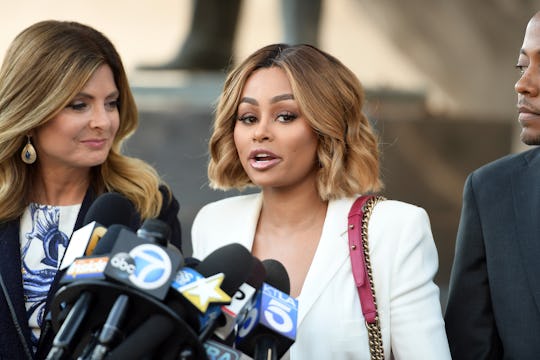 Matt Winkelmeyer/Getty Images Entertainment/Getty Images
Blac Chyna's Parenting Approach Is Inspirational
It's been a few weeks since Rob Kardashian and Blac Chyna's split took a very public (and less than pleasant) turn, with Chyna granted a temporary restraining order against her ex after he posted explicit pictures of her online. Now, however, it seems like the model and Lashed Cosmetics entrepreneur is ready to put the past behind her and focus solely on her children — and here's exactly how Blac Chyna plans to raise her kids after her split with Kardashian (Spoiler: she doesn't care what her critics are saying, because she's putting her kids first).
As a mom of two, Chyna told People that she plans to co-parent with her two kids' fathers. She shares 8-year-old Dream Renée with Kardashian, and 4-year-old King Cairo with Tyga. "I feel that the key to successful co-parenting is communication and respect," she told People recently. She continued:
I might have one point of view, but hopefully Dream and King's fathers add theirs, and we can come together to build better people. I know right and wrong. I'm pretty sure they know right and wrong. We're going to do the best we can.
And that's incredibly powerful, especially considering all the just went through with Kardashian (and the countless people who were egging him on).
In the past, Chyna has already spoken about her successful co-parenting with Tyga, despite their occasional disagreements. "Co-parenting is super easy because we kind of already established how that would work early on," she told Essence last year. "So, it's a breeze and it's easy. Tyga takes King to school, I take him to school — we pretty much split our time with him down the middle."
Chyna also wants to give her son and daughter as normal a life as possible, despite their famous parents. "I feel a lot of people in the spotlight put their kids in a bubble and that's what messes them up," she told People. "My kids are going to go to a public school, just to have that normalcy. I feel that when you put someone in a shell, it's just not healthy."
That's a concern Tyga has spoken about as well, telling E! News last year that he was trying to cut back on the gifts he gave his son. "He's kind of like—not that he's spoiled—but that's all he knows," he said in March. "You've got to kind of teach him other things and that you've got to work for that stuff."
Kardashian hasn't really spoken to the media since Chyna was granted a restraining order against him, but it sounds like the two have things figured out when it comes to baby Dream. Judging by Chyna's recent comments, it seems like the mom of two has her parenting approach sorted out, so no matter how things play out once the temporary order ends, the kids are in good hands.