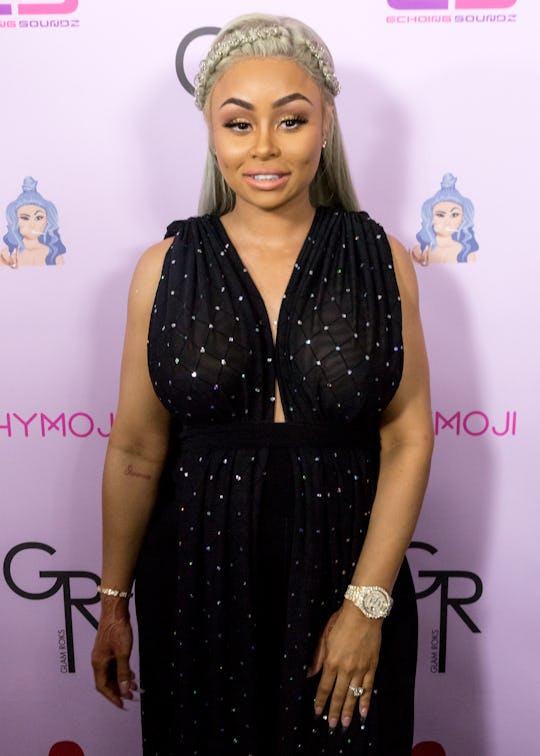 Greg Doherty/Getty Images Entertainment/Getty Images
Blac Chyna Shared The *Cutest* Throwback Photo Of Dream Kardashian Before Her 2nd Birthday
When it comes to the KarJenner family, it seems like there's always something to celebrate or talk about. Whether it's a new business line, birthday, baby, or some kind of make up or break up, there's always a lot to — ahem — keep up with, and there's nothing that makes fans more excited than those adorable KarJenner kids. That's why Blac Chyna's photo of Dream Kardashian is such a sweet throwback before her upcoming 2nd birthday.
Though parents Blac Chyna and Rob Kardashian tend to keep baby Dream as much out of the spotlight as possible (and, to be fair, Kardashian himself is distinctly more private than any of his siblings or step-siblings) so it's an extra special occasion when either one of them shares an exclusive photo of her. And that's exactly what happened on Wednesday when Chyna posted an adorable tribute in honor of her daughter's upcoming birthday.
"Few more days until Dream's 2nd Birthday," Chyna wrote on the photo, which features Dream in her stroller, at an undisclosed age. Immediately, fans began wishing Dream and her family well, saying that it's "hard to believe" she's "grown up so fast." (Very true, TBH, for any kids in general.)
Editor's Note: The Instagram post has since been deleted.
Back in 2016, Chyna gave birth to her second child, a daughter, on Nov. 11., with all of the KarJenners — as well as reality TV cameras — present, according to E! News.
Despite the happiness of welcoming a new baby, Kardashian and Chyna have struggled to stay on good terms throughout the duration of her pregnancy, and the last two years of their daughter's life. Most notably, perhaps, was when Kardashian purportedly leaked intimate photos of Chyna online. Chyna told ABC News: "I was devastated, of course... This is a person that I trusted ... I felt comfortable, you know, with even sending these pictures and even talking to him about certain things."
Afterwards, Chyna went on record and told DailyMailTV that she certainly "doesn't regret" her relationship with Kardashian, and that Dream was "made of love," and that her life is now about taking care of her daughter, as well as her son, King Cairo, whom she has from a previous relationship with Tyga.
As for whether the couple would ever consider getting back together, despite it all, Chyna said there could be hope. BET reported that in a "tell all" interview Chyna gave about Kardashian and his entire family, she they would "maybe" get back together, and that you "never know."
Regardless of the issues between them, it's abundantly clear that both Chyna and Kardashian are great parents, and even some of Kardashian's family members can vouch for that.
For example, Kardashian's sister Khloé spoke out on how she's not only proud of the father her brother has become, but that he even reminds her of their own late father, Robert Kardashian Sr. "My brother Rob is like my father in so many ways — his sense of humor, silly nature, the way he loves and respects family," she said, according to Us Weekly. "My dad would do anything for his kids and my brother is the same way for Dream. I'm so proud of him!"
All in all, it's clear that both Chyna and Kardashian are making parenthood — and life — work for them. Regardless of what happens behind-the-scenes, what matters most is that the couple is celebrating another year of their amazing daughter's life.