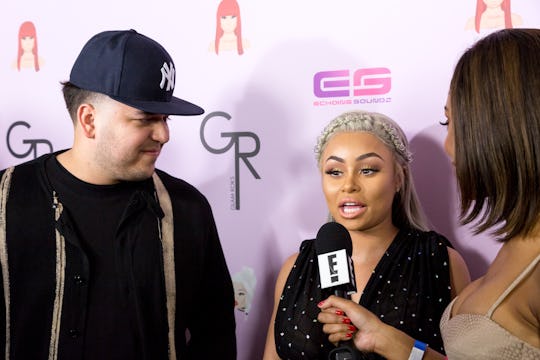 Greg Doherty/Getty Images Entertainment/Getty Images
Blac Chyna's Latest Photo Of Dream Is Adorable
Time really does fly when you're obsessing over cute babies, doesn't it? Blac Chyna's perfect baby Dream is proof of that, as her latest Instagram shows the little family at Dream's 2-month checkup. Yes, you read that correctly. It has officially been two whole months since the world was blessed with the cuteness that is Dream Renee Kardashian. And Blac Chyna's latest Instagram of little nugget Dream will really tug at your heartstrings.
It's been about a year since Chyna and Rob Kardashian started dating, and we've loved every minute of getting to follow their journey. With the premiere of their very own reality show, Rob and Chyna, we've been lucky enough to get a front-row seat to all the drama, heartache, and sheer madness that is their relationship. Perhaps our obsession with all things Kardashian, and Kardashian-related, isn't exactly healthy, but ya know what? It's fun. And it's also heartwarming to see pure love, in whatever form, appear on our newsfeeds.
And that's exactly what Rob and Chyna do. Whether with themselves, their perfect daughter, or all three of them — it's clear that there's real love and joy in that little family, which is why watching the evolution of their relationship is so engaging.
Chyna's latest post of the family of three is no exception.
"2 month checkup with Dream, Daddy and I!" Chyna wrote Tuesday afternoon, a welcome update on the happy and healthy baby girl.
Since her birth on Nov 10, 2016, Chyna has been an adamant poster of all things Dream, blessing us with gorgeous pictures of the tiny tot.
While Rob and Chyna's relationship has been rocky, perhaps emphasized by the fact that Rob's sister Kylie has dated Chyna's ex-fiance (and baby momma), Tyga, their glorious Instagram posts of each other and Dream are proof that true love can withstand anything.
As the above video shows, the couple don't take themselves too seriously, doing a mannequin challenge during Chyna's delivery of Dream. In fact, even though they may be super famous, it is just that that makes them so relatable.
Because, yes, celebrities, they're just like us! They do trending social media challenges, and elf themselves with great delight. The couple definitely has our hearts, and the same can be said about their little bundle of joy.
What else can I say besides the fact that, between Chrissy Teigen's Luna, Neil Patrick Harris' Harper and Gideon, and so many more, Instagram truly is a dream for baby lovers, and we're so thankful to have all the pictures of Dream we could hope for.
Keep smiling, Dream, we are so here for it.