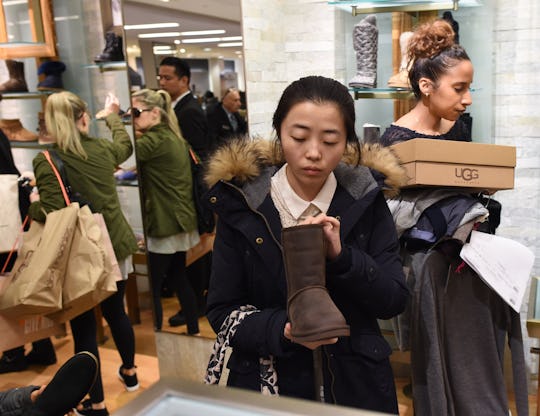 Black Friday Photos Prove This Year's Shoppers Were Civilized, With Just A Few Exceptions
Tis' the season for family, for hot apple cider, for sharing, for giving... and for slamming people to the ground. That's right: Another Black Friday is upon us, and as the day goes on, more and more videos are popping up online showing patrons pushing, hitting, and kicking one another in order to get the latest deals and steals. The good news? This year, Black Friday photos prove the day has been relatively tame. (I haven't read about any stampedes or stun guns, at least not yet.) The better news — especially if you are a homebody like me — almost all in store deals are also available online. Which leads me to ask: Why go through this insanity when you can shop comfortably (and conveniently) from your own home?
OK, the truth is I get it: For some Black Friday shoppers, the day is a bonding experience. It is a time when old friends get together — when entire families and entire neighborhoods are able to link arms and sip coffee well before sunrise — and it is a time of instant gratification... or instantaneous disappointment. So though it seems like most of Black Friday looked calm like this:
And this:
But videos like these make me shudder, and I thank the Black Friday fairy for the advent of the Internet.
Of course, it's difficult to say whether these fights actually started over bargains, or were completely unrelated to the shopping experience. Still, for those hoping to avoid the insanity, there are two main reasons why perhaps shopping online at your favorite store might be preferable to actually going to your favorite store.
The first? Unlike in years past, there are now plenty of sales you can snag up online. This year, Amazon and NewEgg offered steep discounts on tablets, laptops, projectors, and TVs while Walmart pledged to offer more deals than ever through their online shop. And, added bonus, their Black Friday sales started online at 3 a.m. Thursday — but many shoppers still opted to brave the store in person. Other companies offering online discounts include Target, Best Buy, Toys 'R' Us, Bed Bath & Beyond, and pretty much anywhere (and everywhere) you have ever shopped.
The second? One word: Toddler. If you have ever, ever gone shopping with a toddler, this needs no further explanation. If you haven't, imagine letting loose a pint-sized, sleep-deprived, two-foot-tall maniac in an overcrowded, unapologetic sea of people. Did I mention this maniac wants to hug everyone, touch everything, and will cry the second you have to walk past the Pez dispensers...at the entrance? Yeah. No thank you.
So even if the shoppers this year were tame — you can't count on your toddler to be the same. Here's hoping either way, you enjoyed a calm Black Friday. Free of tears. (Yours and your kid's.)
Image: Timothy A. Clary, Joshua Lott, Kena Betancur/Getty