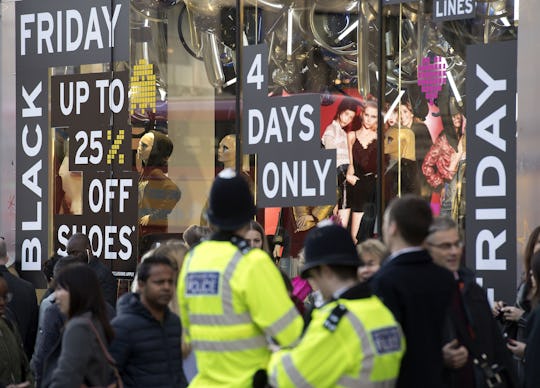 JUSTIN TALLIS/AFP/Getty Images
Black Friday Tweets That Prove The Holiday Season Is Officially Here
Ah, Black Friday. That wonderful day of the year when, after giving thanks, we buckle down and really get into the holiday spirit by, of course, going shopping. Those who are out and about today know that Black Friday sums up a good deal of the emotions the holiday season brings with it, including from glee to frustration to downright seasonal madness. For those looking to commiserate with others, I've rounded up a few of the best Black Friday tweets to mark the true beginning of the holiday season.
From Twitter users reminding folks to treat retail employees nicely today (it can't be an easy day for anyone working in a mall) to stressed-out moms wondering why they brought their child to the mall on Black Friday (why, God, why), the day holds all sorts of fun adventures that echo the madness of the season. Because while holiday celebrations are all about friends, family, and feeling grateful, you still need to go buy all of the ingredients for Christmas dinner in a jam-packed store, pick up too many presents, and try not to murder your children (who may or may not have consumed too much candy).
Without further ado, here's a few Black Friday tweets to get you into that good old holiday spirit.
For Some, Black Friday Marks The Countdown To Christmas
For Others, It's Permission To Listen To Holiday Music All Day, Every Day
While Christmas music may be the bane of my existence nowadays, I can totally relate to these tweets: my childhood self loved when it was finally December and I could start playing Gloria Estefan's Christmas Through Your Eyes on repeat. Because I was a really cool child like that.
It Also Marks The Onslaught Of Holiday Madness
Bring it on, Black Friday. If you can survive today, then you can definitely survive the political arguments that are sure to erupt at your family's holiday dinner this year. ("Do your best, Great-Aunt Mildred, I already survived Best Buy on Black Friday. Nothing can touch me anymore.")
It's Also A Good Reminder To Treat Yo'self
Hey, the holidays can be tough. Whether treating yourself means staying home or getting yourself something awesome just because you want to, it's important to take some time for yourself amidst holiday work parties, present shopping, and baking pies for a group of 40.
No matter how you've chosen to spend your Friday, enjoy the transition day. From here on out, it's endless holiday music, way too many social events, and just a touch of madness. (But it's also eggnog and cozy nights in and Christmas lights everywhere, so I'm willing to overlook some of the craziness of the season.) And remember, if you're out and about shopping, stay safe out there, folks.