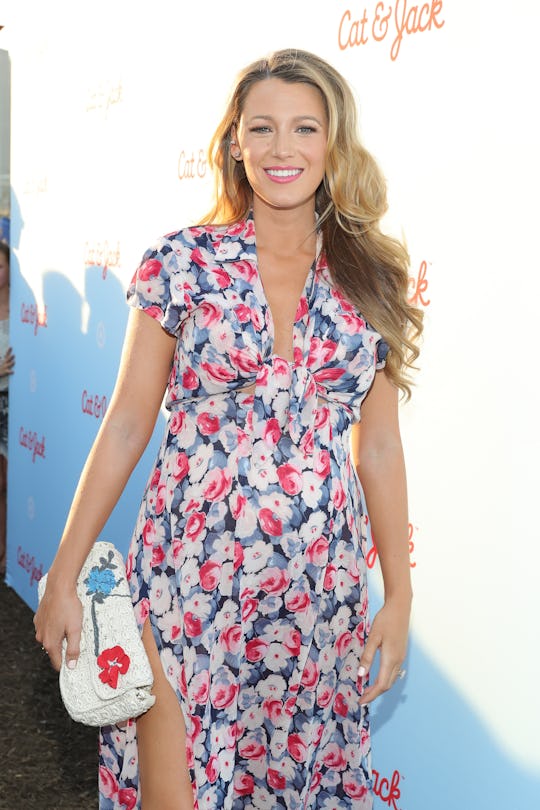 Neilson Barnard/Getty Images Entertainment/Getty Images
Blake Lively Admits Her Post-Baby Body Wasn't Realistic, & Her Honestly Is So Refreshing
Blake Lively might currently be awaiting the arrival of her second child with husband Ryan Reynolds, but after her first child, James, was born back in 2014, Lively found herself having to get back in shape really quick, so that she could begin filming her latest film, The Shallows. The hardest part? Lively spent almost the entire film in a bikini, which would be pretty daunting even if she hadn't just given birth eight months earlier. But according to People, in a recent appearance on Live With Kelly, Blake Lively admitted her post-baby body wasn't realistic for the majority of mothers, and that she definitely wouldn't have ended up looking like that if it hadn't been for her strict diet and personal trainer. With so many celeb mamas making it look so easy to bounce back to bikini-ready form after giving birth, Lively's honest take on what it was really like is so relieving to hear.
Although Lively obviously looked incredible in the film, she said that a lot of it came down to the fact that the movie itself was incredibly physically demanding:
That movie was an athletic event as much as it was an acting job because they didn't hire a stunt double until the last two weeks, so it was just insane underwater stunts.
Lively also explained that the body you see on-screen really came down to having a personal trainer, and that even she can't normally live up to that expectation:
I don't look like that in real life. That's not me. That was an eight-week period of my life. I'm luck to have an amazing trainer, this guy Don Saladino, who just kicked my butt.
But what's even more unfortunate, Lively said, is the fact that the pressure for moms to transform their bodies after giving birth even exists in the first place. In an interview with Melbourne's Herald-Sun, the actress admitted that "there is a level of insecurity and vanity" involved in shooting a movie in a bikini after giving birth, and that "you don't want to be the person in the magazines that they are saying 'ugh, look at her' rather than 'wow, look at her.'"
But the soon-to-be mother of two said the reality is that all women's bodies look different after they give birth, and that it shouldn't be something to look down upon:
...There shouldn't be that negative 'ugh' after someone has a baby. Your body is so beautiful. You couldn't walk a Victoria's Secret runway but it's beautiful in a completely different and incredible way and I do wish I had the bravery to go out there and represent women as they actually look.
Lively — who once admitted that she was able to keep her figure despite loving cupcakes and never exercising — has been upfront about how hard she had to work to get her body in top shape after becoming a mother, telling The Kyle and Jackie O Show that she cut all processed foods from her diet while training five to six days a week, according to The Daily Mail.
And that, of course, isn't likely to be something most new moms can do — or should do, for that matter. While it may have been nice for Lively to be able to look so great so soon after giving birth, she reminded anyone who might be looking up to her as an example that that expectation is a burden placed on women:
It's so unfair though because it's so celebrated. It's like, this is what someone can look like after a baby. You gave birth to a human being. I would really like to see that celebrated.
Of course, there's nothing wrong with wanting to eat healthy or get in shape after giving birth, and if heading to the gym or getting back into your pre-baby jeans or bikini is high on your priority list, then more power to you. But it can be hard to be a new mom when you're also inundated with examples of celebrities posing for photos looking better than ever after babies, as though its something all women should aspire to. Hearing Lively say that even she doesn't really look like Blake Lively when she's not specifically training for a film and adhering to a strict diet? That is an important message that all mothers need to hear.