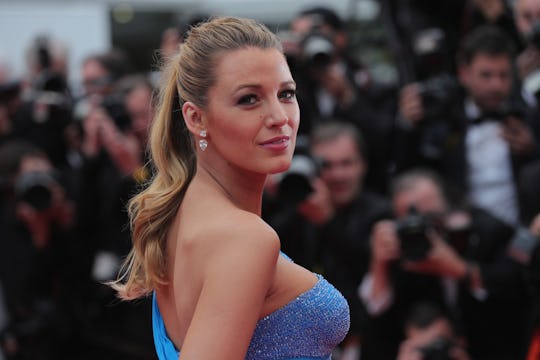 Neilson Barnard/Getty Images Entertainment/Getty Images
Blake Lively Deleted Her Instagram Account, & Fans Think This May Be The Reason Why
So... Blake Lively went M.I.A. — on social media, anyway. The last photo she posted on her Instagram was of a sort of creepy photo of a completed Hangman game, the answer to which was a question, "What happened to Emily?" which is also now her bio. Fans think they know why Lively deleted her Instagram account... and unfollowed everyone except 28 women (and counting) with the name Emily Nelson. And they think it may have to do with her new movie, A Simple Favor, according to People.
Yes, you read that correctly. Blake Lively straight up wiped her Instagram account clean just after posting a photo of a clever Hangman game. She deleted all of her photos, including her bio photo. And she unfollowed everyone she'd followed (including husband, Ryan Reynolds, which has sparked panic of divorce), except for 28 Emily Nelsons. For a minute, followers were convinced she'd been hacked. But now fans are speculating that the questionable Instagram activity (or lack thereof) has definitely got everything to do with her upcoming film, according to BuzzFeed.
A Simple Favor, directed by Paul Feig, is an adaptation of a book by the same name in which a woman named Emily Nelson goes missing, and her blogger best friend tries to uncover the truth behind her disappearance, according to BuzzFeed. So... it's not an uneducated guess on fans' parts. In fact, if that's not what happened to Lively, then I'll be a bit concerned myself...
Her Instagram account, after all, was full of endless entertaining jokes between her and her Reynolds. The celebrity parents of daughters, James, 3, and Ines, 1, have trolled each other on social media quite a bit, much to my (and her 20.4 million followers') amusement.
I digress. Fans have a puzzle on their hands. And it's serious because the Blake Lively is missing... Naturally, fans went into panic mode.
And then fans started catching on to a theme: Emily Nelsons are getting some seriously special treatment.
Mashable tracked down a tweet from one of the Emily Nelsons, which confirmed that Lively's follow wasn't coordinated; it was totally random indeed.
"Does anyone want to tell me why Blake Lively followed me and had this as a bio," the aforementioned Emily Nelson asked on Twitter. "Goodbye cruel world some hacker is anti-Emily, my time has come :-)"
She quickly followed that tweet up with a very excited, "ALRIGHT SO LONG F*CKING LOSERS MY EGO IS ETERNALLY THROUGH THE ROOF BYE" when she realized that Reynolds liked her initial tweet.
And now that fans have caught on to the whole Emily Nelson thing, they're trying to catch Lively's attention, too. Some are going so far as desperately changing their names on Instagram, hoping that she'll find them and follow them, too.
"Haha hi, I'm Emily," one wrote. Another tweeted, "My name is Emily Nelson, too, @BlakeLively."
There's no telling how long Lively's Instagram account will be down, and whether her cherished content has actually been deleted forever. One time she convinced the world that she cut off and dyed her signature blonde hair for her movie, The Rhythm Section, according to E!, so it wouldn't be the first time she deceived fans into thinking they've lost her for good. But anyone could throw on a wig. How does one get back all that Instagram glory once it's gone? I'm not so sure it's doable.
Meanwhile, A Simple Favor isn't set to release until release until Sept. 14, according to the film's IMDb page, so that's a long time to survive without Lively's unparalleled fashion photos, witty banter with Reynolds, and overall perfection on Instagram.
Throw us a bone, Blake.