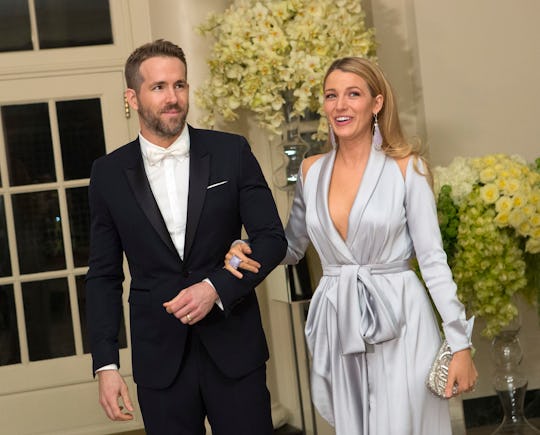 CHRIS KLEPONIS/AFP/Getty Images
Blake Lively Is Pregnant & The Internet Is Rightfully Overjoyed
Move over Deadpool sequel... there's more exciting news in town. Us Weekly claimed on Thursday that actress Blake Lively was reportedly pregnant with her second child — and the internet appropriately began flipping out. It's Lively's second child with husband Ryan Reynolds of Deadpool fame, so naturally, fans of the Marvel anti-hero were prepared to do their worst. (And by worst I mean "outrageous best.")
The entertainment outlet claimed that exclusive sources had confirmed the pregnancy firsthand. "The Gossip Girl alum, 28, was spotted on set of her upcoming film The Shallows showing off her baby bump in a fitted wet suit," Us Weekly's Sierra Marquina reported on Thursday afternoon, although neither actors' reps would comment on the issue. Lively was first cast in the upcoming horror flick — which tells the story of a stranded surfer attempting to flee an enormous great white shark — back in August 2015, when the film's working title was still In the Deep. Lively began filming on The Shallows in October that year, less than 12 months after the birth of her and Reynolds' first child, a daughter named James.
The latest pregnancy rumors come directly on the heels of news that Lively's husband Reynolds would be working on a sequel to this year's biggest superhero flick so far (and the highest grossing R-rated film of all time), Deadpool 2. Romper has reached out to both actors' reps for confirmation and is awaiting a response.
By Thursday evening, news of the reported pregnancy had begun circulating social media, with fans of both actors excitedly posting their sentiments. "Blake Lively and Ryan Reynolds are bringing another super beautiful baby into this world," tweeted one fan. "We are not worthy."
A few others took a more humorous route, tweeting hilarious jokes and quips of which Deadpool himself might be proud:
Others were simple ecstatic that their favorite celeb couple were expecting once again:
This fan's tender thoughts were particularly poignant and true:
Whatever the case, it seemed that the internet was largely on board with the news, (whether true or not).
Lively will likely have her hands full with both work, the new pregnancy, and taking care of daughter James over the next few months. Reynolds himself has admitted in the past that he's often impressed by his wife's stamina and ability to handle everything at once. "I'm not one for vomiting declarations of sentiment out across the airways, but when we had that baby, I fell more in love with my wife than I'd ever been in my entire life," Reynolds told David Lettermen during a visit to The Late Show back in February 2015, before adding,
[...] I'm just a diaper changing facility hooked up to a life support system, but my wife, she's breakfast, lunch and dinner — she's a human Denny's all day long … and it never ends for her. She's the most beautiful Denny's you've ever seen though, I guarantee it.
It seems that with all the exciting news flying around the Lively/Reynolds household, a hearty helping of congratulations are in order.