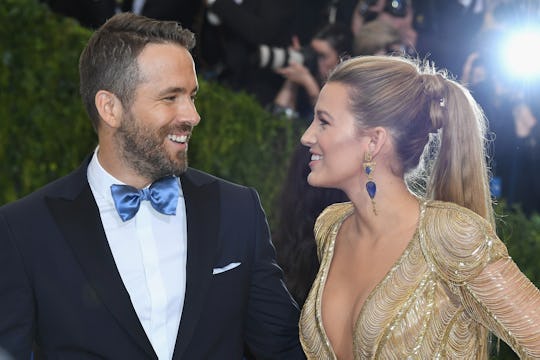 Dia Dipasupil/Getty Images Entertainment/Getty Images
Blake Lively Trolls Ryan Reynolds' Christmas Cookie Fail In The Most Adorable Way
With the holiday season comes those very important hands-on holiday traditions, like decorating gingerbread houses, trimming the Christmas tree, and baking Christmas cookies. But just because these are fun traditions, it doesn't mean that they're necessarily easy to do. Take it from married actors Ryan Reynolds and Blake Lively. The tradition of baking Christmas cookies was clearly not the easiest for Reynolds (let's be real, we've all been there), so Lively adorably trolled Reynolds' Christmas cookie fail and it's as hilarious as you'd expect.
No one ever said that baking (or decorating) cookies was easy and Reynolds knows this to be true — at least, judging from Lively's photo that she posted to her Instagram account on Saturday. In the photo, you can see some dark brown (slightly burnt) cookies in the shape of stars, Christmas trees, snowmen, and who knows what else sit on top of parchment paper. Some of the cookies are cracked, some of the cookies have indistinguishable icing decorations, and others just look given up on. The whole cookie decorating project just looks abandoned.
While this looks like it could have been the product of Lively and Reynolds' daughters, 3-year-old James and 1-year-old Ines, this isn't the case. This is the handiwork of Reynolds. But, as Lively expertly trolled her husband in the caption of the photo, at least he is good looking, right?
"Ryan Reynolds made some Christmas cookies," Lively captioned the photo. "He's verrrry handsome though."
So those Christmas cookies do scream "get in the garbage" rather than "get in my belly." But, you have to give Reynolds kudos for trying — he definitely receives at least an A- for trying to decorate the snowman cookie. It's not easy for Reynolds to keep up with his wife who is a celebrity homemaker and loves to talk about how much she loves to bake. In the past, Lively has said that she looks up to the ultimate homemaker, Martha Stewart, and told People in 2014 that she was the only woman who could "creep up on" Reynolds. And in 2011, shortly before Lively and Reynolds started dating, according to E! News, Reynolds sang the praises of Lively's skills in the kitchen. Reynolds said:
Oh she's quite a baker. There's nothing she can't cook, that's sort of a problem...aren't actors supposed to be out causing massive amounts of bad press and trouble? But this girl's in a kitchen all day, baking for our crew on our movie — everything you can imagine. I mean, she had soufflés coming. What's weird is she would live 30 minutes away but when she brought stuff it was still warm. I think there's an Easy Bake Oven in her car.
At least Reynolds is honest about his cooking skills. In August, according to Elle, Reynolds opened up to Men's Health about just how bad of a chef he is. According to Elle, Reynolds said:
I am not innovative in the kitchen. If I cook, you'll have a structure fire. The firemen will kick down our door, take my wife away, and give her a better life.
Lively is right about Reynolds being talented in other ways. In 2010, Reynolds was named People's "Sexiest Man Alive", "Sexiest Dad Alive" in 2016 (the highest honors), and he was nominated for a Golden Globe this year. He doesn't need to be an expert baker when he has his looks and major acting career to fall back on.
While Lively's comments on the cookie photo are hilarious, Reynolds' comeback is even better. Reynolds took to the comment section of the photo, according to Cosmopolitan, where he hilariously clapped back at his wife (and himself). "I wanted to be the first person to bake Christmas cookies using only a hammer," Reynolds wrote.
Luckily for Reynolds, he is not alone with his holiday baking failure this year. Plenty of people have tried (and failed) with holiday baking, sharing their struggles on social media. Reynolds is just in good company.
Check out Romper's new video series, Romper's Doula Diaries:
Watch full episodes of Romper's Doula Diaries on Facebook Watch.