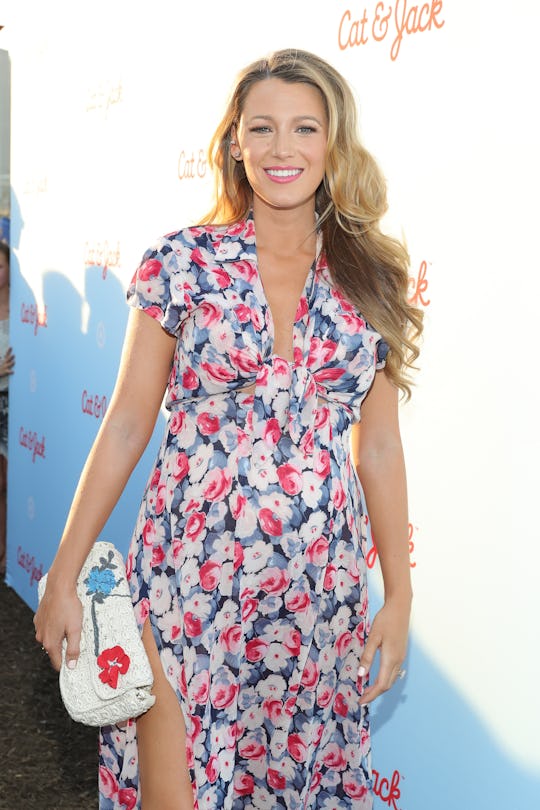 Neilson Barnard/Getty Images Entertainment/Getty Images
Blake Lively Pregnancy Looks Are So Cute, You'll Want To Find Lookalikes ASAP
It's safe to say Blake Lively owns pregnancy fashion. Sure, there have been many before her from Chrissy Teigen to Nicole Kidman, but there's no lady on the red carpet who has ever made dressing while pregnant look effortlessly chic. Here are just a few of Blake Lively's best pregnancy looks that just might make you want to have another baby. (OK, I'm exaggerating, clearly.)
Just last week on Aug. 28 the actress celebrated both her 29th birthday and her baby shower, according to US Magazine, that was reportedly a "classy brunch." She rocked another killer outfit, no doubt.
When you're a high-profile beauty with movies to promote, you've got to come up with some pretty great pregnancy looks. Lively, who's always been one of the best dressed in Hollywood, certainly hasn't disappointed through this pregnancy, which is her second. She's due sometime around Labor Day, or, as her husband Ryan Reynolds told E! News, she is "extraordinarily pregnant."
The craziest part about Lively's maternity fashion, which might not be surprising to anyone, according to People, is that Lively is still wearing sample sizes through her pregnancy, usually a size 2 or size 4. Wow. People's editors called up the designers and got the same dresses Blake wore sent over reported they were all impossibly tiny.
So as we near the end of a pregnancy that has left an indelible impression on all pregnancy fashion that will follow, let's take a look back at some of Lively's best pregnancy fashions over the past few months.
Blake went a little bondage in what TomandLorenzo ID's as Emanuel Ungaro On The Tonight Show Starring Jimmy Fallon.
Below, she's at the Cafe Society premiere in a grey mini dress from Carolina Herrera, according to Hollywood Life, complete with little flower pom poms and killer cleavage.
Here's Lively at The Shallows in a Carolina Herrera black corset dress, according to People, with sheer white skirt that shows off her long legs and the dress flower details:
Another look from an after party celebrating premiere of The Shallows. According to People, it's a two piece outfit from David Koma:
Check out this blue stunner of a dress from Cushine et Ochs that she rocked on another Tonight Show Starring Jimmy Fallon appearance:
But her very best look, from a long list of gorgeous frocks was hands down this dress she wore on the red carpet at the premiere of BFG. The dress is from Atelier Versace and might be the prettiest dress a pregnant woman has ever worn:
Thanks, Blake, for making a real splash in the world of maternity fashion and proving to moms-to-be you don't have to go through pregnancy looking frumpy (but of course, you do you). Lively makes making babies look downright fashionable.