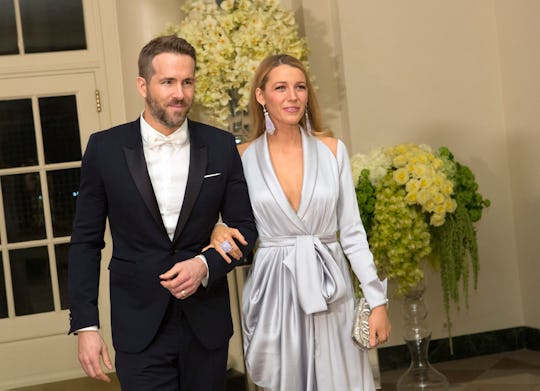 CHRIS KLEPONIS/AFP/Getty Images
Blake Lively & Ryan Reynolds Make First Public Debut With Their Kids, & They're Beautiful
Cute celebrity baby alert! E! News has reported that Blake Lively and Ryan Reynolds debuted their kids to the world at Reynolds' Hollywood Walk of Fame ceremony on Thursday, and wouldn't you know it, beautiful people tend to make beautiful kids. The public family outing came as a shock to many fans, because Reynolds and Lively are notoriously private when it comes to their kids. They've never been photographed in public before, and in fact, Reynolds once had to drop a close friend when he learned that they'd tried to sell a picture of his first daughter, James, to the tabloids.
Lively went out of her way to hide her pregnancies until it was impossible, jokingly chiding Late Night host Seth Meyers back in June for referring to her pregnancy when she was about six months along, and clearly showing. The couple's second baby, whose name is still unknown, was born in September, and it was well over a month before anyone even learned that she was a girl, when Reynolds made an appearance on Conan and joked that he wanted to get out of the house because of all the estrogen. "It's like an American Girl doll took a sh*t on my life," he told host Conan O'Brien.
E! reported that James, who turns 2 years old on Friday, had a blast playing with a microphone, which she refused to put down in order to take a family picture, and presenter Anna Faris joked that she wanted to take both kids home with her. Variety caught the whole thing on camera, and James' antics begin at around the 35-minute mark:
The toddler runs around the podium like she owns the joint, and has no interest in cooperating with the photographers, which they apparently found charming, judging by the amount of laughter she instigated. Unfortunately, it's hard to get a good look at baby No. 2, who, at just 2 months old, was cuddled snugly against her parents' chests throughout the event. However, Reynolds recently told Entertainment Tonight that the new baby looks just like James, saying "she's sort of a little mini version of our older girl," so use that to fuel your imagination.
Reynolds and Lively didn't offer any explanation as to why they chose to finally debut their children to the public, so it's unclear if this was a one-time thing or a change in how they plan to handle their kids' privacy going forward. They've both been open about wanting more children, so perhaps they've just decided that it's too much work to hide a whole brood? Either way, that James is adorable, and totally worth the wait.