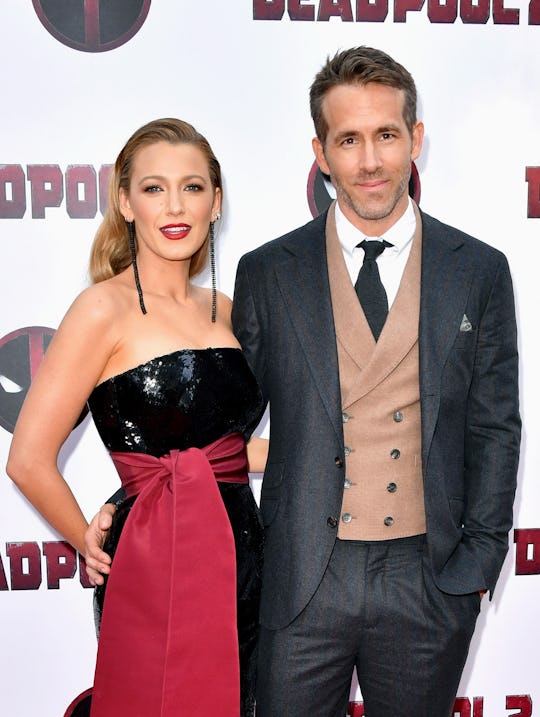 Michael Loccisano/Getty Images Entertainment/Getty Images
Blake Lively & Ryan Reynolds Put Being Parents First With This One Rule
When you're a super-famous couple, most people assume a few things when you decide to reproduce: you're progeny is going to be as perfect as you are, and the stress of parenting is lessened considerably as you can likely employ a team of nannies and caretakers to help you balance work and childcare. Though this is often the case with many families (and a totally valid option) Blake Lively and Ryan Reynolds put being parents first with this one very specific rule they have about filming, and honestly, it's pretty refreshing to read.
While on a press tour for her upcoming film, A Simple Favor, Lively opened up to USA Today about something many people probably wonder: how she and husband Reynolds take care of two young daughters and manage to keep their careers thriving.
Lively explained the family travels together at all times, and that at any given time, only one parent is filming a new project. That means the other parent is free to take care of the kids, and they switch on and off. It makes sense, given that both Lively and Reynolds' roster of movie roles has not slowed down since the births of their daughters, James and Inez. However, she says she loves being able to keep her family close to her. "They're always so much more fun and interesting to be around than being by myself. So when I do get the time to do nothing, all I want to do is drink them up."
Though the couple has seemingly worked out their unique schedule, Lively also reminded fans that she's really just like any other mom in that she sometimes worries and feels insecure about how well she does as a parent.
"Every good parent I know is hard on themselves, which is beautiful, because it means that you care," Lively told USA Today. "I live for my family, so where I might have insecurities about other things in my life, I know I'm giving the best of myself to my family. That's not to say I'm without plenty of mistakes, but I'm confident that everybody knows how loved they are. I sleep easiest at night knowing I'm at least giving it my all."
Speaking of she and her husband's movie roles, Lively told People in 2016 that one of the hardest parts about being married to an actor is having to see him having sexual relations with other people on screen.
"I was on a plane with my baby. It's kind of torture these days, because I'm on a plane and everywhere I look there's my husband in a sex montage throughout the holidays with another woman, because everyone wants to watch Deadpool on a plane," she said. "So for 14 hours having your husband have mashed potatoes eaten out of his butthole, because that's in the film. It's lonely, it's a cruel and unusual form of torture."
However, it's beyond clear that Lively and Reynolds put their kids first, and are committed to raising strong, powerful young women. In a 2017 interview with Glamour, Lively said this is the parenting advice she tries to live by:
"Stop telling little girls that they can do anything. They already believe they can do anything. It opens the door for questions. We're all born feeling perfect until somebody tells us we're not. So there's nothing I can teach my daughter. She already has all of it. The only thing I can do is protect what she already feels."
She went onto say that she's also contentious of how she speaks, particularly regarding gender.
"I'm much more conscious of language," Lively told the magazine. "My husband was like, 'Why do I always say he?' And I said, 'That's what we're taught.' So he'll pick up, like a caterpillar, and instead of saying, 'What's his name?' he'll say, 'What's her name?' Or we've joked that my daughter is bossy. But my husband said, 'I don't ever want to use that word again. You've never heard a man called bossy.'"
Lively and Reynolds are nailing this whole parenting thing, whether they're on the road or at home, they're always in it together.