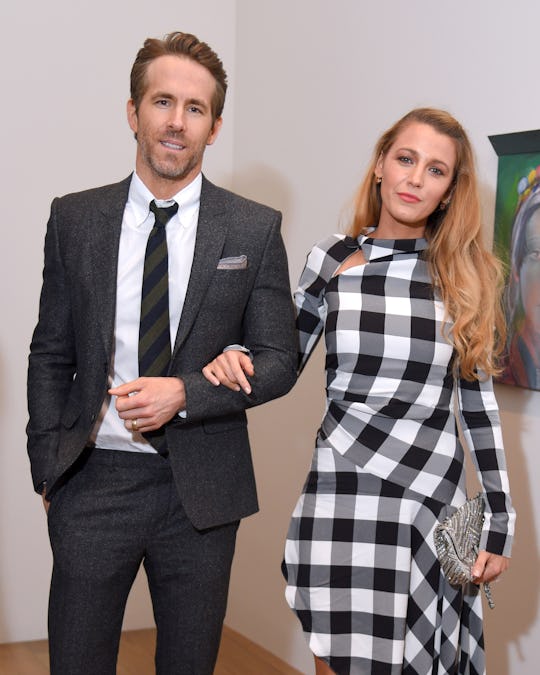 Michael Loccisano/Getty Images Entertainment/Getty Images
This Photo Of Blake Lively & Ryan Reynolds Serves As A Sweet Reminder To Get Out & Vote
In a surprising turn of events, renowned troll Blake Lively opted not to give her husband a hilariously hard time on social media for his birthday this year. Instead, she shared an important message with her followers. In fact, Blake Lively and Ryan Reynolds' voting selfie serves as a reminder to vote in the upcoming election, no matter where you may be.
In the photo, posted to Instagram on Tuesday, Lively and Reynolds are posed in front of some colorful balloons with big smiles on their faces as they hold up their absentee voting envelopes. "Happy Birthday to 2018's Sexiest Voter Alive @vancityreynolds," Lively captioned the photo, adding the hashtags, "#justvoted" and "#absenteeballot party!" Reynolds posted a similar photo of himself and Lively that he captioned, "What a birthday! I just smoked a huge bowl of early voting. #JustVoted @whenweallvote."
Along with the successful selfie, Lively also posted what appears to be an outtake from their little voting photo shoot to her Instagram Story. In that shot, her face is partially obscured by a balloon and she wrote, "Damn balloon. Tryin' to overshadow our birthday voting limelight," as People reported. All joking aside, Lively and Reynolds' posts shed some light on a very important topic: absentee voting.
According to Vote.org, absentee voting — also known as "mail-in voting" and "by-mail voting" — is when voters mail in their ballots before Election Day:
All states will mail a ballot to voters if certain conditions are met. The voter may return the ballot in person or by mail. Some states will let voters apply for an absentee ballot in person before Election Day and then vote the ballot that same day.
As Lively and Reynolds show in their photos, it is a fairly easy process. The State Department website breaks it down into two easy steps. First, you will submit a completed Federal Post Card Application (FPCA) to your local election officials each year. They will then confirm your ability to vote and put your name on a list to receive absentee ballots for any elections held the relevant calendar year, and send you a blank absentee ballot either electronically or by mail.
Next, you will complete and return the ballot so that it arrives prior to your state's deadline for ballot return. But if for any reason you have not received your blank ballot 30 days prior to an election, you can use the Federal Write-in Absentee Ballot to cast your vote.
Lively and Reynolds aren't the only celebrities have used their substantial social media following to garner attention this election season. Last week, Taylor Swift posted a couple of patriotic Polaroid photos of herself to Instagram and included a caption about early voting:
Something I wish I knew about when I was 18 and voting for the first time: EARLY VOTING. It makes it so quick and easy to go and cast your vote before November 6. Early voting starts TODAY in Tennessee and goes to Nov 1.
She also added a Vote.org link with helpful information on early voting. And if you're wondering if these posts have any real impact, it would appear that they do. Kamari Guthrie, Vote.org's director of communications, told BuzzFeed News, "We are up to 65,000 registrations in a single 24-hour period since T. Swift's post." Talk about making a difference.
Like Lively and Swift, another blonde beauty shared a message on the importance of voting — and some personal news. In lieu of a traditional pregnancy announcement or magazine cover, Amy Schumer told the world that she was expecting via the Instagram page of Jessica Yellin from News Not Noise, according to Vogue. Yellin's Instagram Story included a list of Schumer's choice of political candidates including Beto O'Rourke for Senate in Texas, Kirsten Gillibrand for Senate in New York, and Andrew Gillum for Governor of Florida. The bottom of the story read, "I'm pregnant - Amy Schumer."
Each of these celebrities have put their own unique spin on a similar message: Get out there and vote. No matter how you put it, that's an important takeaway.