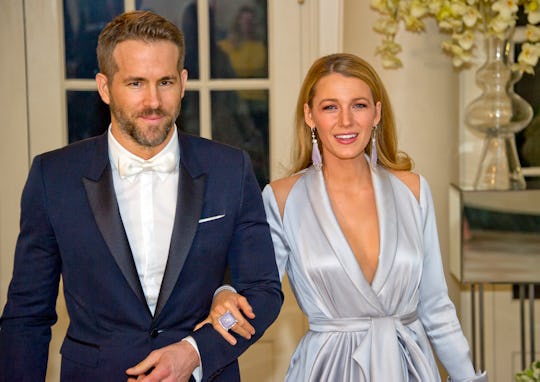 Pool/Getty Images News/Getty Images
Blake Lively & Ryan Reynolds Welcome Their Second Child — REPORT
Fans of Blake Lively and Ryan Reynolds have known for some time that the married couple have been expecting their second baby. Well, Lively reportedly gave birth to their new bundle of joy on Friday morning, according to a report from Page Six. The unconfirmed report did not include the gender or name for the child, but it did say that Taylor Swift reportedly visited the couple at a Manhattan hospital to congratulate them. Representatives for Lively and Reynolds did not immediately respond to Romper's request for comment.
Just recently, Reynolds told People that Lively was "extraordinarily pregnant," – so much so, Reynolds said, it prevented her from going on family hiking trips.
...I take my daughter with me all the time on hikes. My wife is just extraordinarily pregnant, so there's not a lot of hiking going on, which I'm told is my fault!
Well, after the exciting news of the birth of the couple's baby, perhaps Lively will soon be back out on the hiking trail in the near future. As for the pair's growing family, apparently having a big family was always something they each hoped for.
In an past interview with the former Details magazine, Reynolds explained that they'd "love to have a big family," US Weekly reported:
We both come from big families — my parents did four, Blake's did five. A lot of people say it's crazy, but we'll only know when we're there, you know? We'll walk through that fire pretty happily, I think.
The couple is notoriously secretive, so likely won't reveal any photos of the new child. They kept James a secret for months after she was born, and there are still very few photos of the child's face. Lively told Marie Claire that she wanted James to be able to make her own decision about whether to be in the spotlight, according to E! News:
Ryan had a nice, normal upbringing, and we want our kids to have the same normal life that we had. We don't ever want to rob them of what we had, because we'd feel really selfish. We knew the lifestyle we were getting into, and while it's hard…it's another thing when it's our child. She didn't have the opportunity to make a decision about what she wants.
It's certainly an exciting time for the Deadpool and The Shallows stars, and hopefully they will at least reveal a name some point soon. (We'll give up on the photos.)