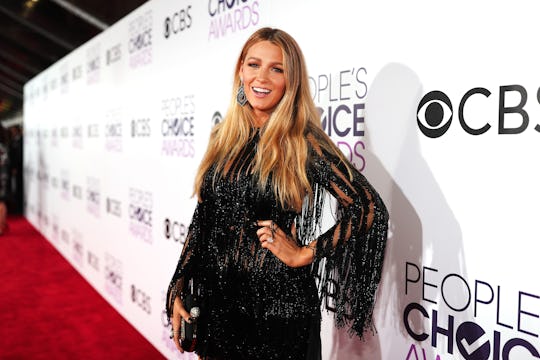 Christopher Polk/Getty Images Entertainment/Getty Images
Blake Lively Says, As A Woman & A Mother, She's Worried
Each year, Variety celebrates high-profile women who are using their "clout and influence" to raise awareness and fight for justice. On Friday, this year's honorees gathered for the entertainment magazine's Power of Women luncheon in New York City, presented by the Lifetime Network. The guests of honor had a lot to share about today's political climate when they were stopped on the red carpet. Honoree Blake Lively said there's a lot worrying her as a woman, a mother, and "a human being" because of the Trump administration, and it's a feeling much of the country can understand.
Lively is among the many celebrities who have become far more outspoken since — and because — Donald Trump became president. Trump had instilled fear in the American public way before he was sworn into office on Jan. 20. But his actions over the last three months have only escalated that sense of alarm. As Marie Claire has tracked, Trump's first 100 days in the White House have seen a severe uptick in immigration enforcement, tighter restrictions on reproductive rights, rollbacks on anti-discrimination policies that protect transgender people, and rash military actions. Lively, like many of us, seems scared of what's to come over the next four years.
But Lively said she sees a silver lining. Trump's election to the highest office in the land has raised America's consciousness, she told Variety before the luncheon began on Friday. She continued,
We're becoming so much more involved. We're becoming active. And I feel like there's an awakening that's happened. We can't just retweet things. We have to do something about it. And I see that happening all around me. I see myself doing that. That's powerful. If we want to change the world, we have to do it ourselves. I think we are and I think we will.
Lively's comments are not out of character for the 29-year-old actor, who is has two daughters, 2-year-old James and 7-month-old Inez, with husband Ryan Reynolds. The Shallows star is being celebrated by Variety for her work with the Child Rescue Coalition in fighting against child pornography using new technology. (Lively joins Chelsea Clinton, Gayle King, Audra McDonald, Shari Redstone, and Jessica Chastain as honorees.)
She's also in full activist mode online, sharing important truths on her Instagram account. On Equal Pay Day, Lively made it a point to remind everyone that, although all women make less than cis white men, women of color earn significantly less because the sexism is compound by racism.
Editor's Note: The Instagram post has since been deleted.
LISTEN UP 🗣On average, women in the US are still paid 20% less than men. Break the pay gap down by race and ethnicity-- Black and Hispanic women are paid even less. Let's show our support for women and families at leaninorg.com/equalpayday 💰🚺💰 #20PercentCounts
And in January, Lively joined millions of other people in New York City for the Women's March. According to US Magazine, Lively posted to Instagram a photo of herself next to a young protester at the march with a caption that read in part,
I marched for my daughters, for my friends, for strangers, for myself, for Phoebe here in this picture who I met as she motivated everyone she came across. My march wasn't driven by hate.
Lively's activism, though, should not negate the fact that she has been problematic in the past. The Gossip Girl has recently come under fire for a questionable and seemingly racist Instagram post. She also was heavily criticized — and rightfully so — for a fashion editorial inspired by the pre-Civil War South, according to Refinery29. And, as Mic reported, her comments praising Woody Allen as "empowering to women" had hurt many feminists and sexual abuse survivors. (Romper reached out to Lively's publicist for comment but has not heard back.)
I can't end this post without noting that the worry Lively and millions of other Americans now feel has been a reality for marginalized populations for decades. People of color, people with disabilities, people living in poverty, transgender people, and gay and lesbian people have been under constant attack not only by other Americans, but by their local and state representatives. While it's great that Lively and other celebrities have turned into outspoken activists, it should not be forgotten that the fight against discrimination, violence, hate, brutality, racism, and sexism has been raging since the founding of America.