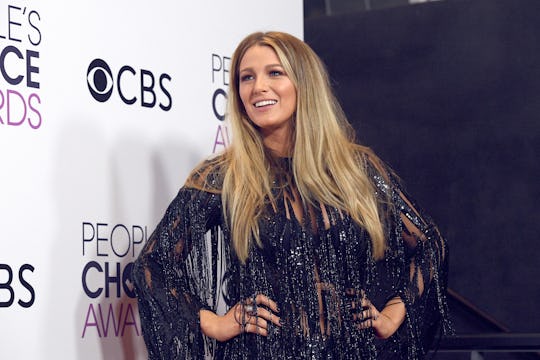 Kevork Djansezian/Getty Images Entertainment/Getty Images
Blake Lively Trolled Ryan Reynolds In The Perfect Way
Blake Lively and Ryan Reynolds are known for the humor that is so clearly a part of their relationship. But Lively took things up a notch Friday, with a serious burn of a joke on her Instagram account that references her husband and has the internet in stitches. Blake Lively trolled Ryan Reynolds so well in the caption of a photo she shared with her followers, and it's just the latest in a series of social media posts the two have posted about each other that puts their shared sense of humor on display.
People reported that Lively, who married Reynolds in 2012, took to Instagram Thursday to make sure her husband's ego wasn't too inflated after he was recognized as one of TIME's 2017 100 most influential people at the TIME 100 Gala in New York on Tuesday. The publication reported that Lively and Reynolds attended the event with his mother, Tammy — and I kind of hope his mama was in on the joke before Lively made the Instagram post, to be honest.
BuzzFeed reported that Lively posted a photo of Ryan's silhouette, captured while he enjoyed live music during the ceremony. It wasn't the photo itself that was funny — it was the caption that went with it that has everyone saying Lively seriously trolled her actor hubby.
"Congratulations to the most influential person in my life," Lively wrote, appearing at first to be referencing Reynolds in the image. But she continued, "The best man I know... you deserve this @time 100 honor... if only my husband weren't blocking you in this shot. I'm so sorry @johnlegend."
Because if you look closely, John Legend is actually performing on the stage behind Reynolds — and Lively jokingly congratulated him, and not her husband, in the Instagram post.
E! News reported that this wasn't the first time either of them seemed to jokingly snub their spouse before their social media audience. In fact, in August, Reynolds made a similar joke on Twitter:
"Just want to wish Billy Ray Cyrus the most special, magical birthday ever. I love you with all my heart. Also, Happy Birthday to my wife," the actor tweeted.
Because while Legend, 38, was also honored as one of TIME's 100 Most Influential People, Lively's joke, of course, is that it's Reynolds that Lively should be congratulating. But maybe she felt her husband's self-esteem had been boosted enough by the honor.
Reynolds is known for playing the witty anti-hero Deadpool in the film of the same name, as well as movies like The Proposal and Definitely, Maybe. Lively is known for her role on the CW's Gossip Girl, and movies such as The Age of Adaline and The Sisterhood of the Traveling Pants. Their shared acting is actually the reason why they met and eventually married — they both worked on the 2011 superhero film Green Lantern.
The celebrity couple are are also parents to two daughters — James, 2, and Ines, 6 months — according to People. And if the humor in their relationship is present in how they're raising their kids as well, those girls are likely growing up in a pretty hilarious household.