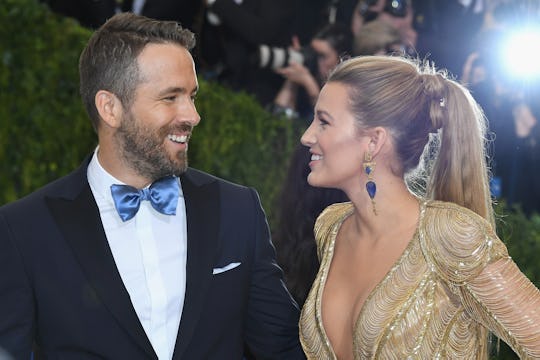 Dia Dipasupil/Getty Images Entertainment/Getty Images
Blake Lively Got Her Sweet, Sweet Revenge With Her Birthday Message To Ryan Reynolds
Blake Lively and Ryan Reynolds: Could there be a more hilariously adorable couple in Hollywood? The powerhouse actors and parents of two daughters, James and Ines, have a way of playfully burning each other while simultaneously confirming the fact they are meant to be — and a recent social media shout-out is no exception. That's because Blake Lively trolled Ryan Reynolds on his birthday, and it's clear that she was in it to get her sweet, sweet revenge.
On Monday, Reynolds celebrated his 41st birthday. So naturally, his loving wife took to Instagram to offer up a celebratory tribute. "Happy Birthday, baby," Lively wrote, along with a photo of Reynolds and his long-time buddy Ryan Gosling at the Critics' Choice Awards in 2016, according to E! News. Too cute, right? Except, for one, tiny detail: Her poor hubby is all but cropped out of the photo, and Gosling is grinning front and center. Enter crying laughing emoji here.
I have to say, this is a nice change of pace from all of the mushy, husband/wife birthday dedications I see while scrolling through my news feed. Because honestly, we can't all have the "best husband in the entire world," can we? Lively's light-hearted post seems to strike the perfect balance of "awww" and "bahaha."
However, before you wonder if this social media burn is some sort of thinly-veiled confession of Lively's true feelings for the other Ryan in her life, consider this: If you remember, Reynolds recently pulled a similar prank for Lively's 30th birthday.
On Aug. 25, Reynolds posted his own hilarious birthday shoutout to the mother of his children, writing "Happy Birthday to my amazing wife," on Instagram. However, the post featured was of Lively mostly cropped out of a photo of couple at the 2014 Met Gala — and Reynolds taking up 90 percent of shot.
There is a possibility that Reynolds' birthday shout-out for his wife may have actually been a delayed response to Lively's hilarious Instagram post in April. This photo featured Reynolds' silhouette in front of the stage at a John Legend concert. In it, she wrote:
Congratulations to the most influential person in my life. The best man I know... you deserve this @time 100 honor ... If only my husband wasn't blocking you in this shot. I'm so sorry @johnlegend
Score: Lively 2, Reynolds 1. Clearly, these two lovebirds are in the midst of an all-out social media battle of the wits. And I'm loving every second of it.
Of course, hilarious social media posts are kinda what Deadpool actor is known for. (You know, aside from his amazing acting skills.) His parenting tweets — while admittedly off-beat in their humor — are still pretty darn entertaining. Like this gem: "No matter which kids book I read to my screaming baby on an airplane, the moral of the story is always something about a vasectomy."
Or, this one: "On our 6am walk, my daughter asked where the moon goes each morning. I let her know it's in heaven, visiting daddy's freedom."
I mean, where does Reynolds come up with this stuff? Cue: His wife enters to ruin the visions in my head of these scenes actually playing out. Lively said in an interview with Glamour:
He may as well work for the Enquirer. When he says "my daughter," he's never, ever talking about her. Everything is a completely made-up scenario. He'll run them by me sometimes just to make me laugh. But oh, I'm so in love with him when he writes that stuff. I mean, I'm in love with him most of the time, but especially with that.
I totally get it. "A couple that laughs together stays together," is a philosophy I hold near and dear to my heart; and that goes for poking fun at each other, too. Since becoming parents, my husband and I have an ongoing competition to see who can capture the most absurd photos of the other sleeping. Like that time I fell asleep sitting up while breastfeeding our oldest, with my mouth hanging wide open. Or this past weekend, when my husband zonked out in the middle of our kids' playroom floor with his arms and legs sprawled like he was doing carpet angels. Thankfully, we've both agreed not to embarrass each other by posting these priceless moments on social media.
With that said, you can bet I'll be on the lookout on Instagram for more Reynolds/Lively pranks. Because to me, they are the epitome of #relationshipgoals.
Watch Romper's new video series, Romper's Doula Diaries:
Check out the entire Romper's Doula Diaries series and other videos on Facebook and the Bustle app across Apple TV, Roku, and Amazon Fire TV.