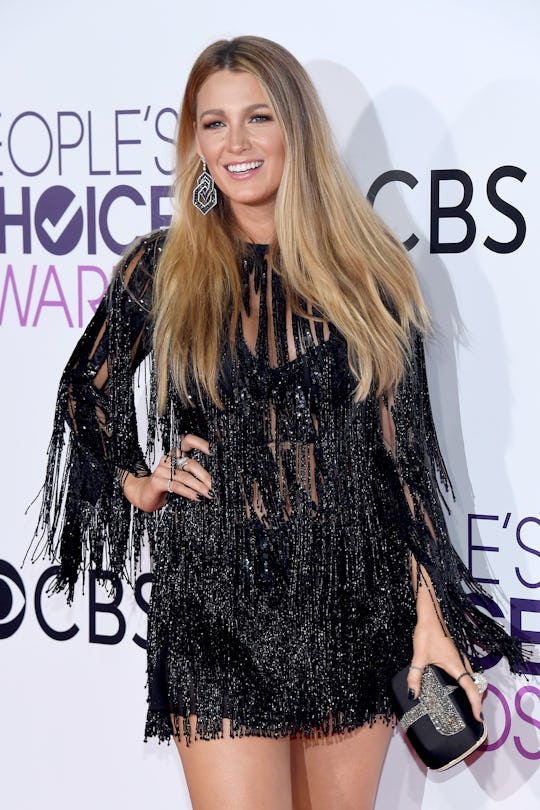 Kevork Djansezian/Getty Images Entertainment/Getty Images
Blake Lively's PCA Speech Was All About Girl Power
Blake Lively took home the fan-nominated People's Choice Award (yes, they are still a thing) for Favorite Dramatic Movie Actress this year for her work on nautical thriller The Shallows. While the movie may just have been a fun summer blockbuster, Blake Lively's 2017 People's Choice Awards speech was actually legitimately empowering. She invoked the Spice Girls to deliver a message about the importance of girl power, women telling their own stories, and people in power listening to those stories.
The People's Choice Awards are one big popularity contest (literally), often with fluffy, crowd-pleasing films and TV shows winning out over critically acclaimed entertainment. And that's the point! But Blake Lively brilliantly pointed out that this awards show specifically puts people in charge of supporting women's stories when they vote. They literally "voted for girl power," as Lively put it in her speech. She also underscored the importance of women taking control of their own narrative, especially when it comes to sharing their stories via social media.
Said Lively in her speech:
"I was always an ambitious kid. So I set a goal for myself as a kid, and I knew if I could accomplish this, I would be successful and I would be happy, and that was to meet the Spice Girls. Still haven't accomplished it. I was very ambitious. But what was so neat about them is that they're all so distinctly different, and they were women, and they owned who they were, and that was my first introduction into girl power.
And I'm watching this movie, and the women nominated in this category, and when you guys voted for this, you didn't just vote for this movie or me, but you voted for girl power, and so thank you. It's true. And men voted for girl power too, and you guys are awesome for doing that. So thank you for sending a message to Hollywood that people want to hear stories about women. And we want to hear your stories, whether it's social media, your iPhone, whatever. Tell your stories, now more than ever. You need to be heard, you are valuable, and no one can limit you.
In a culture that often shames folks for "social media overshare," it's critically important that women don't get silenced when trying to speak out about their experiences, using whatever means they have access to. It's one of the best ways to combat shame, in fact, to share our stories, raise awareness, and find solidarity from within our own communities. The message is an invaluable one to send, and Blake Lively nailed it in her speech.