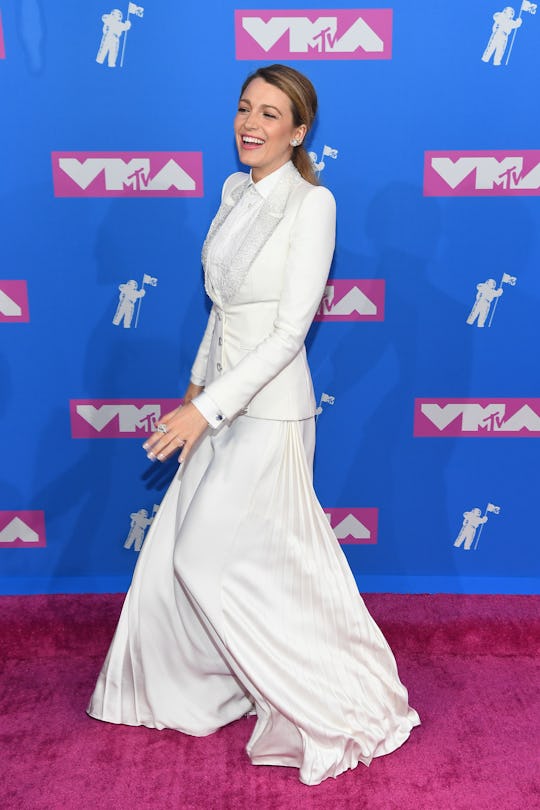 Nicholas Hunt/Getty Images Entertainment/Getty Images
Blake Lively's Date At The VMAs Will Make Your Heart Smile (Hint: It Wasn't Ryan Reynolds)
When the star of Sisterhood of the Traveling Pants and Gossip Girl got scored a night out at MTV's Music Video Awards in New York on Aug. 20, she didn't take a certain Deadpool lead along with her. In fact, Blake Lively's date at the 2018 VMA's doesn't look a thing like her husband, Ryan Reynolds, but she brought the perfect substitute: her own mom.
At the live MTV award show, Lively looked chic as always, strutting the red carpet in a tailored white sequined tuxedo-style blazer, flowing pants, and an oxford shirt. And along for the ride was her beaming mom, Elaine Lively, according to ELLE, looking lovely in an opposing black pantsuit. Aww!
The actress looked like she was genuinely excited to be at the VMAs on Monday night. Surely, a night out on the town and a short break away from her daughters — 3-year-old James and almost 2-year-old Inez, according to People — was appreciated for this busy mom, right? She snapped selfies with fans on the red carpet, as PopSugar noted, before presenting an award with Anna Kendrick, her co-star in the upcoming A Simple Favor, to Ariana Grande.
Lively, who comes from a large family, also brought some of the clan out onto the red carpet at the VMAs, according to The Mag (although no names were given...cousins, perhaps?).
And as much as she clearly loves her moms, it could be that Lively was just trying to keep a new family tradition alive at the VMAs last night (nothing against mama Elaine, of course). Earlier this year, for example, Reynolds took his mom (along with Lively) to the premiere of his film, A Quiet Place, where Tammy Reynolds stole the show with an elegant-hipster get-up that included a Burberry scarf, trench coat and Vans, as reported by Harper's Bazaar. Mama Reynolds was already something of a red carpet pro, as Harper's Bazaar noted, Reynolds has taken her as his date on prior occasions, including to the Time 100 Gala last year.
In fact, Lively also previously brought her mom to her 2015 premiere for The Age of Adaline, as well as the 2009 Emmys, according to Yahoo! Canada Style.
Of course, it's hard to imagine there's any sort of competition over familial love in the Reynolds/Lively household; Both actors have credited their families with influencing their lives, success, and career choices.
"My mama on the far left at 10 years old in a dress SHE MADE," Lively wrote in posting a vintage family photo of Elaine on Instagram. "She's so incredible. I'm so lucky to have such an inspiration and role model."
Lively has also credited her creativity to Elaine, telling Canada's eTalk, as reported to HelloGiggles, that "whatever it was, whether I was doing a school project, I was doing something creative, she would always say, 'You can't mess it up.'"
The star couple has also taken their kids out on the red carpet, with the whole fam attending, when Reynolds received his star on the Hollywood Walk of Fame earlier this year, according to PopSugar.
While I'm not saying that Lively and Reynolds are being out-and-out copied in Hollywood, I will say that instances of celebs' moms on the red carpet have been possibly climbing. For example, Call Me By Your Name's Timothee Chalamet also brought his mom this year's Oscars (and held her hand to boot), according to Harper's Bazaar.
It's always fun to keep tabs on this stylish, humorous, and down-to-earth couple, and it's even more fun to catch sweet glimpses of them with their loving parents on the red carpet.