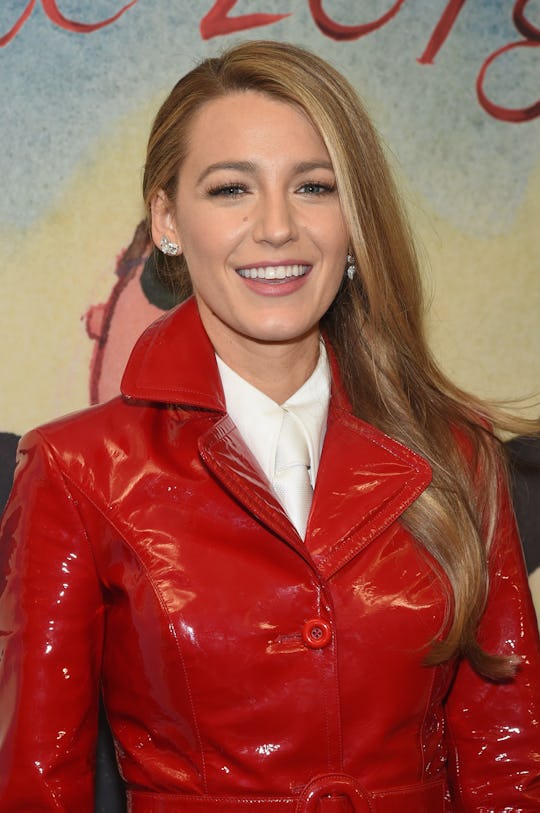 Jamie McCarthy/Getty Images Entertainment/Getty Images
Blake Lively's Daughter Had The Most Hilarious Response To Her Mom's Sweater Dress
Parenting a toddler can be pretty intense at times, but it can also be completely hilarious, thanks to the fact that, well, little kids seem to come up with the best accidental one-liners ever. On Thursday, actress Blake Lively shared a photo on Instagram showing herself wearing a sweater as a dress, and though that might be totally on-trend at the moment, she admitted that her 3-year-old daughter, James, couldn't quite wrap her head around the idea. Blake Lively's daughter thought she'd forgotten to wear pants, and from the sounds of it, she's definitely inherited her parents' sense of humor.
Lively's Instagram feed is full of glam photos of the fashionable star, and after making a Valentine's Day appearance in a red PVC Michael Kors trench coat at New York Fashion Week, according to People, the star was spotted a day later "lampshading" (aka wearing a top as a dress) in what she described in her Instagram Story as a "pilled out pregnancy sweater." Since Lively can pretty much make a garbage bag look stylish, she naturally looked fantastic, but in an Instagram post, the star revealed that James wasn't exactly a fan. Lively wrote, "True story: As the elevator closed my daughter yelled after me, 'Oh no mama, you forgot your pants!'"
In little James' defense, well, technically you are supposed to wear pants under a sweater. And though, in a few years, she'll surely realize that the fact that her mother can effortlessly repurpose an oversized maternity sweater into a dress without looking like a total hot mess means she has probably won the genetic lottery, for now, the tot's fashion commentary at least suggests she's already taking after her mom in the comedy department.
Lively and her husband, Ryan Reynolds, generally opt to keep their private lives out of the spotlight as much as possible, and when they do open up about their marriage every now and then, it's clear that their life together as parents of two young girls is their number one priority. Online however, they seem more than happy to poke fun at each other, regularly one-upping one another with some pretty impressive social media burns, much to the internet's delight.
On Valentine's Day for example, when the bulk of celebrity Instagrams contained loving tributes to their partners, Reynolds instead chose to share a pic of a heart-shaped cake he whipped up for Lively (who happens to be a total culinary whiz), along with the caption, "I baked this cake for my wife. The icing is glue, 'cause I'm not a scientist."
Which, to be fair, at least seemed like a slight improvement from his last Instagram baking attempt, when Lively shared a photo of his very unfortunate-looking Christmas cookies with the world:
This time, Lively opted to stay mum on the cake, but in a later post, in which Reynolds joked about trying to e-mail his mom without realizing he wasn't actually holding his phone, she stepped in with a few choice comments. According to Elle, Lively wrote, "Why won't this damn app swipe right?!?!!" to which Reynolds cleverly responded, "@BlakeLively Because it's the E-Harmony app." Not one to be outdone by her husband's wisecracks though, she wrote back, "Can you show me how to download that? Ever since Ashely Madison closed, I've been so lonely." (Well played.)
It's far from being the first time they've roasted one another's Instagram posts though. In August, Reynolds publicly commemorated his wife's 30th birthday with a photo of the two of them together in which half of her face is cut off, along with the caption, "Happy Birthday to my amazing wife." But not one to be outdone, Lively upped the stakes on Reynolds' birthday in October, not only by posting a photo on Twitter in which her husband's face was similarly half cut out of the shot, but by using a pic in which he was posing with Ryan Gosling. Her caption? "Happy birthday, baby." (Sheer brilliance.)
Sure, Lively and Reynolds are both gorgeous and talented and seemingly live a beautiful life of rainbows and unicorns, but it's their perfectly-matched senses of humor that really make them #relationshipgoals. And while James might still be a bit young to start trolling her parents intentionally, her comment about her mom's outfit suggests that it probably won't be long until Reynolds and Lively's habit of lovingly poking fun at each other becomes a family affair.
And when it does, we can only hope they'll let their daughter sign up for an Instagram account so that she, too, can share her hilarity with the world.
Check out Romper's new video series, Bearing The Motherload, where disagreeing parents from different sides of an issue sit down with a mediator and talk about how to support (and not judge) each other's parenting perspectives. New episodes air Mondays on Facebook.