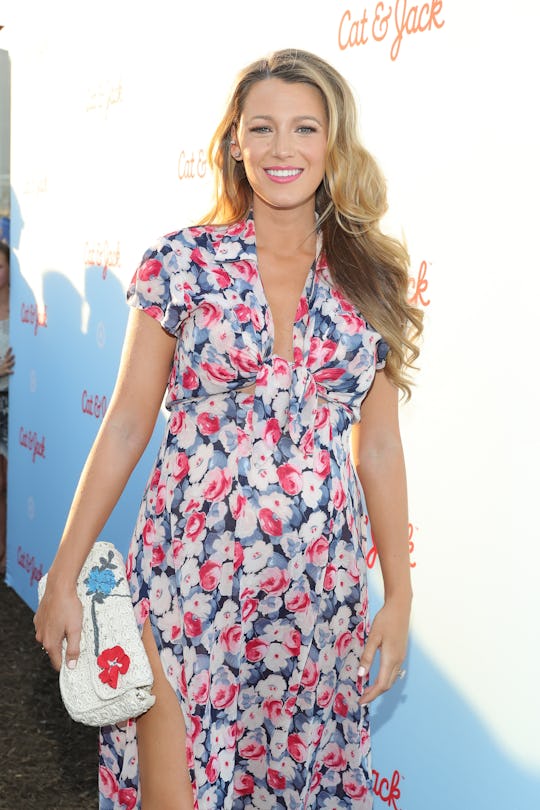 Neilson Barnard/Getty Images Entertainment/Getty Images
Blake Lively's Down-To-Earth Take On Her Pregnancy Style Is Yet Another Reason To Love Her
As far as celeb mom crushes go, Blake Lively is pretty much at the top of my list. The new-mom-of-two might be totally gorgeous, successful, and half of one of the cutest celebrity couples ever, but she also seems like she totally wouldn't judge you for showing up to a playdate in spit-up-stained sweatpants. After all, while Lively always looks flawless on the red carpet, she admits that it's really nothing special when you have access to designer clothes and glam squads whose sole job is to make you look fantastic. Honestly, Blake Lively's down-to-earth take on her pregnancy style is just further proof that she'd be the ultimate mom BFF.
Although Lively has taken a break from the spotlight recently to adjust to life with her second child, she previously spoke to People editorial director Jess Cagle to discuss what it's been like to wear red carpet gowns while pregnant, as well as her thoughts on beauty and style. Her take? Getting dolled up is a lot of fun. Though Cagle noted that many celebrities often complain about that aspect of their career, Lively said she totally embraces it:
Oh, it's totally fun. It's nerve-wracking and weird and so not real life, so, you know, there's like an insecurity you feel about it all. But it's also, it's fun. It's fun to play dress up. We're so lucky.
But according to Lively, there might even be one person who loves it even more than she does: her 18-month-old daughter, James. The actress told Cagle that after she came home from a red carpet event, her daughter was totally enthralled by her glamorous look:
I came home to my baby and she was like, 'Wow.' You know, because you just look like a Disney movie. It's fun to get to do that. Because when you're a little girl you play dress-up, and now I get to do it in big-girl life too.
One aspect of her career that Lively isn't such a fan of though is the unwanted attention it brings to her private family life, and as a result, she and husband Ryan Reynolds have been careful to keep their children out of the spotlight as much as possible. Neither of them has publicly shared a photo of James, and though Lively gave birth at the end of September, they've given the world exactly zero details about the baby.
In an interview with Marie Claire U.K. earlier this summer, Lively explained that the reason behind the lack of information stems from the couple's desire to give their kids the best childhood possible. She told the mag,
My husband and I chose a profession and a side effect of that is, your personal life is public. Our child hasn't had the opportunity to choose whether or not she wants her personal life to be public or not. So in order to give her as much normality as possible, we want her to have a childhood like we had.
One thing we do know at least is that Lively hasn't been entirely MIA since giving birth: according to E! News, only a few days after her second baby was born, Lively attended the wedding of her best friend, Jessica Rose, at the Tribeca Rooftop in New York City — and she even posted about it on Instagram. In the sweet photo, Lively wrote, "Most beautiful bride on the planet. And the best friend I could ask for. @jessicarose617 thank you for being EVERYTHING. I love you."
It also looks like she and Reynolds haven't shied away from entertaining, either. According to Vanity Fair, Lively popped up in a photo on Reynolds Instagram feed (which hardly ever happens), after the couple spent time over the weekend with The Country Cat chefs Adam and Jackie Sappington and their two children. Lively — who has made no secret of her own love for cooking — also posted a photo from the day to her own Instagram account, with the caption, "I know SUPER famous people. #BestChefsInTheWest."
In other words, Blake Lively seems like she is totally the coolest, and you can't even begrudge her awesomeness because she's also super humble about it, too. #Momgoals? Yes, I think so.