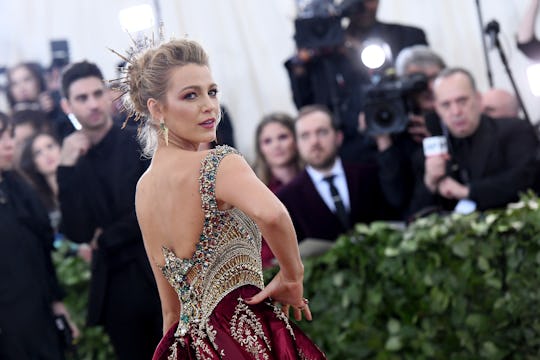 Noam Galai/Getty Images Entertainment/Getty Images
Blake Lively's Met Gala Dress Had A Secret Message For Her Kids That You Probably Missed
At the Met Gala on Monday, the most glamorous people in fashion and entertainment came together to celebrate fashion at the Metropolitan Museum of Art in New York City and these glamorous people did not disappoint. The ultra fancy, very exclusive event was a big night out for adults only and there definitely were no kids in sight. But that didn't stop mom of two, Blake Lively, from bringing her kids with her to the gala — just not in the way you'd expect. You see, Blake Lively's Met Gala dress had a secret message for her kids, according to Us Weekly, proving that not even the most glamorous celebrities take a night off from being a mom.
Lively had jaws dropping when she made her big Met Gala appearance wearing the most incredible custom made dress, designed by Versace, according to People, that went along with the evening's theme of "Heavenly Bodies: Fashion and the Catholic Imagination." Lively's dress was so elaborate, according to Vogue, that it took the dress' designers "600 hours to embroider" the dress alone and required Lively taking a party bus to the ball, just so the dress could fit in it, according to CNN.
While people might have been distracted by the grandeur of the hand embroidered and beaded dress, they might have missed one very important detail — her clutch, which was embellished with the initials of her children and husband, according to Us Weekly.
Lively's custom-made Judith Leiber clutch, according to W, was covered in tiny rhinestones that made out the initials B, R, J, and I in the shape of a cross. Below that was the last name "Reynolds." Of course, any one who is familiar with Lively and her super adorable family would know that B and R stand for Blake and her husband, Ryan Reynolds. The J and I letters stand for the initials of Lively and Reynolds' daughters, 3-year-old James and 1-year-old Ines, according to Harper's Bazaar.
The guest list for the Met Gala is highly exclusive, according to Style Caster, and celebrities or people under the age of 18 are not allowed to go, no matter how high profile of a celebrity they may be or who their parents are. Because James and Ines are so young, this was clearly Lively's way of bringing her family with her on the red carpet, and it couldn't have been done any better. And since Lively took shoe designer, Christian Louboutin as her date to this year's gala, according to People, rather than Reynolds (he was busy promoting his new film, Deadpool 2, according to TODAY), it was the perfect way to pay a tribute to her whole family waiting for her at home.
Before she made her big appearance at the Met Gala, Lively told Women's Wear Daily that this dress was her "favorite yet" out of the eight years that she has been attending the Gala, according to People, due to the fact that the entire outfit was custom for her. With this extra addition of this very special clutch, you can see why this Met Gala look was Lively's favorite — especially since you can tell that she is so in love with her family. In a 2016 interview with Marie Claire, Lively made it clear that her family is her biggest priority. "All my eggs are in one basket and that's my family," Lively said. "That's where my heart is. That's where my everything is."
So, it might be years before either James or Ines can score an invite to one of the most exclusive parties of the year. But now they can technically say that they both made their appearance at the Met Gala as kids, thanks to Lively's clutch.