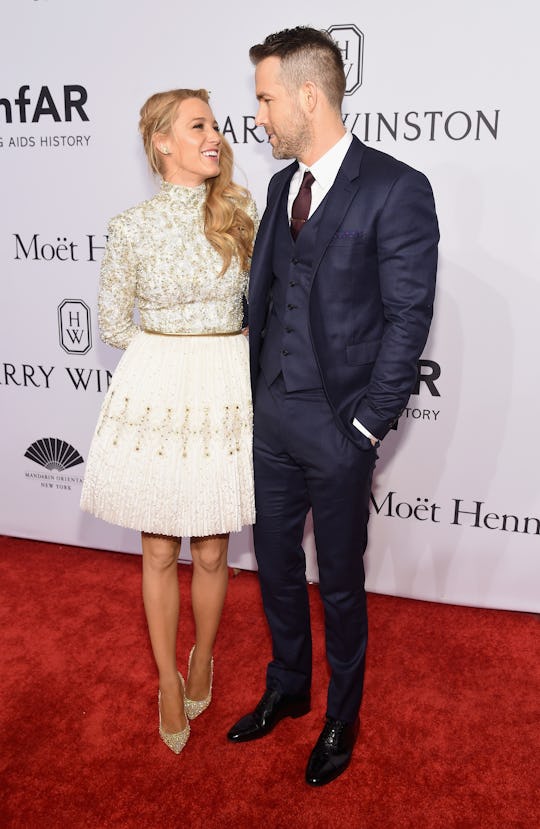 Michael Loccisano/Getty Images Entertainment/Getty Images
Blake Lively's Quotes About Ryan Reynolds Show Why She Thinks He's Her Soulmate
I've gotta say: I love everything about Blake Lively and Ryan Reynolds. Not only is this super couple super talented (Lively is best known for her role in Gossip Girl, while Reynolds has portrayed both Green Lantern and Deadpool), Lively and Reynolds are compassionate, they are philanthropical, and they seem to genuinely care about one another, their family, and the world. (I mean, c'mon: have you noticed the way Reynolds gushes over Lively — and Lively over Reynolds —  each and every time they are interviewed? It's adorable and touching.) But what does Lively really think about hubby, Ryan Reynolds — not only as her husband, but as the father of her children (and her best friend)?
Lively and Reynolds were married in 2012 at the Boone Hall Plantation in South Carolina, and, in December 2014, the couple welcomed their first child, daughter James. Just last month, Lively and Reynolds announced they were expecting baby No. 2 — congratulations! — and it seems there is no stopping this delightfully dynamic duo. But how do they "make it work"? Well, accordingly to Lively it comes down to a few key things.
How Lively & Reynolds "Make Decisions"
"There's no major decision that I make without him. The best part is when we turn off our phones and just talk and hang out," Lively explained in a 2014 interview with Marie Claire. "He's my best, best friend. What do you do with your best friend? You do nothing."
They Treat One Another With Kindness & Compassion
In October 2014, Lively told Us Weekly Reynolds "takes pretty good care of me...he's always good to me."
They Do EVERYTHING Together
"Everything we do in life we do together," Lively said during an August 2014 interview for Vogue. "If I'm working on a movie, he helps me with my character; I do the same with him. Picking out a coffee table. What we're going to eat. He's a beautiful writer—he's written a lot of stuff for us. And he's got a great barometer and he knows me, so he will tell me if it's not as good as it can be."
But They Don't Take One Another Too Seriously
Last year, Lively reminded everyone laughter is the foundation of any solid relationship — well, laughter and a strong competitive spirit — when Jimmy Fallon asked Lively whether she or Reynolds would be their daughter's first word.
We're total rivals...[but] Dada is banned in our house!
Why? Well according to Lively, "dada" is "pathetic! I do everything, he does nothing." (Ha!)
Most Importantly, Lively & Reynolds Truly Know One Another
"The fact that he lived so much before we got together, he's the exact realized person that he should be," Lively told Vogue. "He's going to be a great father and leader and patriarch — he's so meant to be all of those things...[a]nd so I get to share my life with the person he's become, and we get to grow from there."