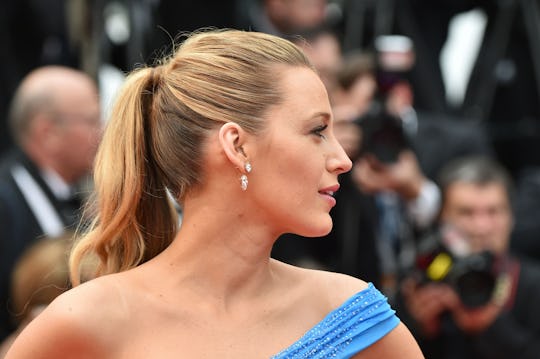 ALBERTO PIZZOLI/AFP/Getty Images
Blake Lively's Thoughts On Breastfeeding Are Helping Fight The Stigma
Blake Lively makes everyday stuff look completely picture-perfect and magical. Nearly a year ago, the movie star shared a selfie in a bikini breastfeeding her daughter James, and you could almost hear the collective sigh from moms around the world who wonder how Lively can even make breastfeeding look hopelessly glam. And Blake Lively's thoughts on breastfeeding are refreshingly body positive, considering the caption she shared along with the shot. Her stand is part of an important step toward normalizing breastfeeding for moms everywhere.
Lively was in Thailand at the time filming her new movie All I See Is You, and she shared several of the most enviable pictures of the beachy landscape. She was also showing off her new "bronde" hair color, which is essentially brown hair with lots of golden blonde highlights. And no, in case you were wondering, motherhood has done nothing to slow down Lively's flawless hair game.
But the best part of the Thailand photo series posts besides the beautiful backdrop was the shot she shared that shows her breastfeeding in a bikini. Lively looks amazing — something she noted with the caption, "The PERKS of breastfeeding."
Lively also kept it down to earth by adding hashtags #YesThatsRiceInMyHair #BlondevsBronde #BrondeJamesBronde, which is undeniably cute and something just about any mom on the planet can totally relate to.
But the bubbly bronde-haired actress made a much more important statement with her picture than just owning Instagram — she showed everyone that breastfeeding is something that cute girls in bikinis do too. And out in the open no less! There's Lively just out in the open in Thailand breastfeeding her baby and celebrating not just the act of breastfeeding, but her body at the same time. Yes, she's feeding a human and looking damn good while she's at it. That's a big deal for anyone who thinks breastfeeding should be normalized and destigmatized in our society.
You can tell Lively's image had a big impact based on reactions like this one from "landofmom", which shared the image with the message "#breastfeeding is rarely glamorous, but always beautiful. Thank you @blakelively, for helping #normalizebreastfeeding"
So while most moms aren't going to be trying to breastfeed off in an exotic locale while filming their latest movie, it's important for all kinds of moms — especially those who are famous and glamorous — to show breastfeeding as a natural, beautiful thing, not something that's shameful or should be hidden away in some gross bathroom or closet. It's also not in the least bit sexual. Just a picture of a mom doing what a mom does.
In this case it just so happens to be an international beauty with killer bronde locks making breastfeeding look like something straight out of a fashion magazine. And I think that was exactly the point. You can't deny that's an important message, and it's cool of Lively to do her part.