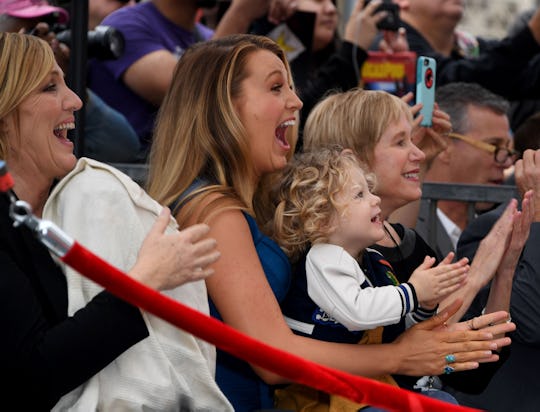 MARK RALSTON/AFP/Getty Images
Blake Lively's Walk Of Fame Instagram Post For Ryan Reynolds Was Perfect, As Always
Is it even possible to have a cuter celebrity couple than Blake Lively and Ryan Reynolds? The two gorgeous and hilarious actors have always seemed so in love and also totally down-to-earth, despite their hugely successful and glamorous careers. But on Thursday, they somehow managed to take their #relationshipgoals status to new heights by making their first-ever public appearance with their two daughters to celebrate Reynolds' star on the Hollywood Walk of Fame (I'm still recovering from the perfection). While Reynolds gushed about his wife as he accepted the honor, Lively chose to congratulate her husband on social media. And honestly? Blake Lively's Walk of Fame Instagram post is just further proof that there couldn't possibly be a cuter Hollywood family than theirs.
According to Us Weekly, Lively penned the sweet tribute to her husband Thursday following the event. The actress posted a photo showing herself and Reynolds, along with their 2-year-old daughter, James, standing on Reynolds' star, and captioned the pic,
Proud is a pitiful word to describe how I felt today. @vancityreynolds The permanence of your impact is undeniable ... Always has been, but now we have a fancy 🌟 to show for it. 😊
Before posing for photos together as a family, Lively and the couple's two children sat in the audience, and watched proudly as the Deadpool actor was honored with his Walk of Fame star, according to The Telegraph. In his speech, Reynolds told the crowd it was "an incredible moment for [him] on so many levels," before sharing some seriously sweet (and funny) words for his wife. Reynolds said,
I want to thank my wife, Blake, who is sitting right there who is everything to me. You are the best thing — the best thing — that has ever happened to me. Second only to this star on the Hollywood Walk of Fame. It's the Hollywood Walk of Fame, cut me some slack here.
You make everything better. I mean, absolutely everything in my life better. You've given us two of the most incredible children that I could ever hope to have. You've made me the father of my dreams when I thought I only had 'fun uncle' potential. Thank you. I love you.
The Walk of Fame appearance was the first time James had been photographed since she was born, and Lively and Reynolds still have yet to even share the name of their second daughter, who was born in September. After the ceremony, Reynolds explained to Entertainment Tonight that, although the normally extremely-private couple choose to keep their children out of the spotlight, they felt that accepting a star on the Walk of Fame was so significant that their entire family should be involved. Reynolds said,
Normally we don't drop the whole family out like this, but I just thought I'd regret this in 20 years if I didn't have my kids here as well. So we all, we decided collectively just to come down here in one big movement and be a part of this.
And, for fans of the couple, it was definitely worth the wait. For a child who hasn't ever spent much time in front of cameras and crowds, James definitely seemed to be a natural, grabbing a microphone and jumping around when the couple were preparing to pose for photos, according to Vanity Fair. But although it seems as though James might be destined for showbiz fame like her parents, Reynolds didn't seem particularly thrilled with the idea, and told Entertainment Tonight, "there will be no showbiz in her future unless… until she's 30. That's a safe time for her to enter the game."
Given Reynolds and Lively's preference for keeping their children out of the public eye, chances are James won't be getting many more opportunities to show off for the crowds anytime soon. But having the unexpected opportunity to finally see them all together was seriously heartwarming, and really just further cemented them as the ultimate celebrity couple of all of our collective dreams.