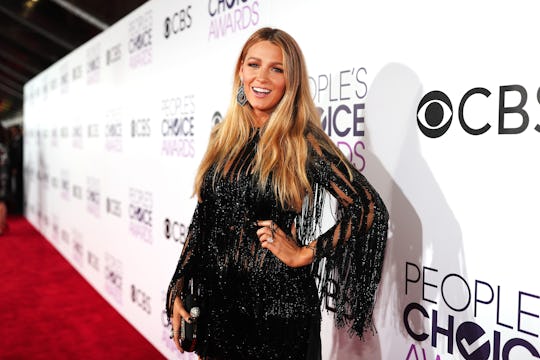 Christopher Polk/Getty Images Entertainment/Getty Images
Blake Lively's Women's March Post Is Beautiful
Following the inauguration of President Trump on Friday, an estimated 2 million people came out worldwide over the weekend to support the Women's March on Washington, and its related sister marches in cities across the globe. Although the Women's March was the largest demonstration tied to the inauguration, organizers emphasized that it wasn't specifically an anti-Trump march, but one in support of women's rights and equality — a message that could be heard loud and clear thanks to everyone who took part. One of those women was actress Blake Lively, who attended the march and shared a pic on Instagram. Blake Lively's Women's March post was a beautiful tribute to the event's focus on respect and equal rights, and is one that will hopefully resonate with everyone, regardless of their political leaning.
According to People, Lively joined the Women's March on New York City on Saturday, and a day later, she shared a photo of herself with a young girl named Phoebe whom she met at the march. Joining countless others who took to social media to share their thoughts with the #whyimarch hashtag, Lively could be seen kneeling next to Pheobe and her homemade sign, which read, "let's make America kind again." In the caption, Lively wrote,
I marched for my daughters, for my friends, for strangers, for myself, for Phoebe here in this picture who I met as she motivated everyone she came across. My march wasn't driven by hate. It was rooted in a very simple fact — we are all equal. I believe everyone can agree on that. Thank you to everyone who marched all over the world. I felt so hopeful and deeply grateful. #whyimarch
Editor's Note: The Instagram post has since been deleted.
In many ways, Lively's post is exactly what so many people needed and wanted to hear following Trump's inauguration. After what was a really grueling and emotional election — one that caused real hurt and fear and pain among Americans who felt like their fellow citizens had just voted in a man who'd openly made racist, xenophobic, misogynist comments on the campaign trail — seeing people around the world come together to denounce hatred and bigotry was so inspiring and hopeful. And seeing that it wasn't just adult women, but men, and even children, marching in solidarity to support that message made it seem like it was still possible to be optimistic about the next four years.
After beginning the day at the Washington march, Lively's friend, actress Amber Tamblyn, joined her in New York City as the two of them walked with the crowd to Trump Tower, where the march ended, according to Us Weekly. Tamblyn (who walked alongside Lively, heavily-pregnant and wearing a Planned Parenthood beanie), has been an outspoken critic of Trump, and made headlines in October when she revealed on Instagram that she had once been sexually assaulted.
While it couldn't have been easy at all to share those details with the world, Tamblyn explained she felt compelled to open up about it in light of the release of the so-called "Trump Tapes" — leaked audio from a 2005 Access Hollywood interview with Billy Bush, where Trump could be heard bragging about grabbing women sexually without their consent. In her post, she wrote,
That part of my body, which the current Presidential Nominee of the United States Donald Trump recently described as something he'd like to grab a woman by, was bruised from my ex-boyfriend's violence for at least the next week. I had a hard time wearing jeans. I couldn't sleep without a pillow between my legs to create space.
Of course, just because the Women's March has come and gone doesn't mean that it's mission has ended. In fact, in many ways, it has only just begun. The success of the marches has proven that there are many people more than willing to mobilize and fight for fairness and equal rights, and now, many of those people are looking ahead to their next steps. According to USA Today, spurred on by Trump's win and the resulting grassroots organizing efforts, women have been expressing a greater interest in running for public office. Already, more than 2,300 women have signed up for training seminars with VoteRunLead, a New York non-profit that helps women looking to enter into politics, and on Sunday, an estimated 500 women attended a workshop in Washington about running for office, hosted by EMILY's List, a group that supports female politicians with pro-choice agendas.
That's something that has a lot of people excited. At the Washington march, New York Sen. Kirsten Gillibrand told the crowd,
This is the moment of the beginning of the revival of the women's movement ... Until every woman and girl in this country has a chance to reach her God-given potential America will not reach its full potential.
Despite drawing a crowd of about 500,000 people in Washington on Saturday (far more than the 200,000 originally anticipated when the organizers applied for a permit), the Women's March on Washington actually began on Facebook, when a retiree from Hawaii suggested that women mobilize to march against Trump's win. From there, the movement grew and grew — so much so that, according to The Washington Post, the day of the march was actually the second-busiest day the Washington Metro had ever had on record. As many as 673 smaller marches took place worldwide, according to The Women's March on Washington website, including two on Antartica.