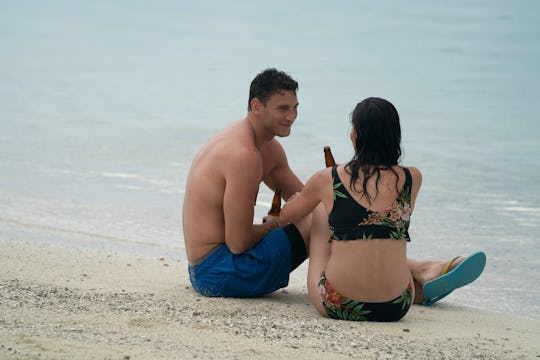 Paul Hebert/ABC
'The Bachelorette' Fans Can't Get Over What Blake Said During The Finale
This is it: The Bachelorette finale. Both Blake and Garrett had the opportunity to meet Becca's family and make their case that they're the best for her. During his conversation with Becca's sister, Emily, Blake said he wanted an independent woman on The Bachelorette. As a huge Blake fan, I hope that's what Becca's looking for — and other fans on Twitter felt the same.
When the finale began, Becca had no idea who she should choose in the end. She wanted her family to help her in the decision, and Emily talked to both of them for that purpose. During her conversation with Blake, he got real about why he loved Becca. I understand Emily's perspective and why she asked why Becca was different than any other woman Blake has been with. This is an admittedly weird way to find love; it makes sense that Becca's sister wants to suss out why the remaining men want to marry Becca.
Well, Blake had a pretty amazing answer. He said he's surrounded by strong women and gravitates towards strong, independent women. He sees Becca as a strong woman and that's why he's drawn to her. He wants to be with an equal, and someone who would challenge him — and Becca checks those boxes.
Emily liked that answer, and when she talked to Becca afterwards she mentioned that Blake would challenge her more than Garrett and they would be "teammates." Even after Blake left, Becca's mom Jill — who wasn't even there for that conversation — said, "Blake, for some reason right when he came in seemed more like equal, on your level." Jill and Emily weren't the only ones who appreciated Blake's sentiment. Fans on Twitter applauded Blake for being attracted to Becca because she's strong and independent:
Blake talking about Becca with such respect was honestly a reprieve in this stressful finale. The Bachelorette finales are always an ~event~ but for some reason, this one seems to be amped up. Chris Harrison even said on Twitter (and the top of the show) this is "the most emotional show" he's ever seen. Okay, he's said that every season of the show ever, but I continue to believe him!
Becca described how emotional The Bachelorette finale will be in an interview with ET. "You're going to get all the emotions, you're going to get the love, you're going to get the tears," she said, "you're going to get the laughter and so the journey was a roller coaster."
Chris Harrison called it "gut-wrenching" in his own interview with ET: "It's gut wrenching. It's absolutely gut wrenching, what happened in the Maldives, it's beautiful and it's brutal at the same time." Harrison even mad an Arie comparison. "What Arie fell into, Becca did too. She's in love with two men, Blake and Garrett, and she's making an impossible choice and it literally brings her to her knees."
Well, I suppose if there's any solace in this it's that the finale will soon be over and viewers will finally know Becca's choice. No matter what happens, fans know where Blake stands in what he's looking for in a partner. If he doesn't win, he'd be a great candidate for The Bachelor (in my opinion, anyway). For now, though, Becca's still making her decision and asking her family for advice, so until those final moments, Bachelor Nation will have to make their own predictions — and blast "Independent Women Part 1" by Destiny's Child during commercial breaks.