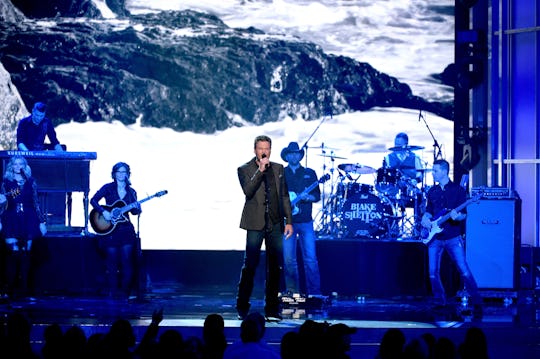 Ethan Miller/Getty Images Entertainment/Getty Images
Blake Shelton Sings "Came Here To Forget" At The ACM Awards With Miranda Lambert In The Front Row
Hunky country crooner and The Voice judge Blake Shelton opened the ACM Awards with his song, "Came Here To Forget," with Miranda Lambert watching from the front row. There is lots of speculation that the song is about his news-making divorce from Lambert and current romance with fellow The Voice judge, Gwen Stefani. "Girl, you're gettin' over him, and I'm gettin' over her," Shelton sang, while the "her" in question was possibly watching from ten feet away.
The alleged drama between Shelton, Lambert, and Stefani has been all over the tabloids in the past year. Shelton and Lambert divorced in July 2015, Us Weekly reported, and soon after, rumors began swirling about a possible romantic connection between himself and Stefani, the musical star's co-worker on The Voice. The relationship was public in pretty short order, and neither Stefani nor Shelton seemed upset about that. The couple often tweets to one another, and they aren't shy in front of paparazzi cameras. Both Shelton and Stefani have released songs thought to be about their respective exes in the past year. Gwen Stefani made headlines with her not-so-subtle song that seemed to be about her ex, Gavin Rossdale, cleverly entitled, "Used To Love You."
Shelton did her one better by singing what could easily be interpreted as his divorce song on live television to millions of people with Miranda Lambert, his ex-wife, sitting just a few feet away. The song has done amazingly well on the country music charts, perhaps due to the lyrics, which seem to follow exactly what's happened in Shelton and Stefani's real lives. Even Shelton himself has said that the song is a pretty direct look into his life. Apparently he and Stefani are "falling in love just enough to get us through."
The performance probably wasn't calculated to wound Lambert, but if it was, it's doubtful she's hurting. Lambert, who is as big in the country music scene as Shelton arrived at the awards with a new hunky beau of her own. She wowed everybody in her sexy yellow gown with a long slit showing off some killer legs, then went on to put on a killer performance of her own, and took home the award for Best Female Vocalist.
Artists from every medium are known to use their personal lives as inspiration in their work. Just think of the old writer's adage, "write what you know." Then again, it's a whole different ballgame when the artist is a huge celebrity. Pop stars like Taylor Swift, Paul McCartney, and Ed Sheeran have had their lyrics parsed by the media and fans who are just trying to determine which romances inspired their heartfelt tunes. Perhaps there really is no better way to do it than to embrace it. So go do you, Blake.