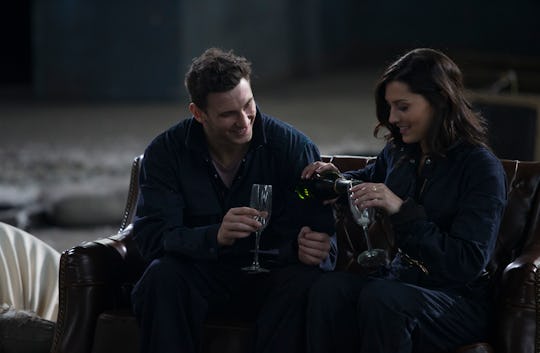 Paul Hebert/ABC
Blake's Instagram Before 'The Bachelorette' Shows He's A Total Sweetheart
From the moment he propped Becca Kufrin to literally get back on a horse, Blake Horstmann became one of the earliest fan favorites on this season of The Bachelorette. And it looks like his adorable charm and humor left an impression on Becca as well, because she did hand him a rose after all. But while it may be too soon to predict whether she falls in love with him or not, Blake's Instagram before The Bachelorette will definitely make you hope that she does.
One thing that stands out the most about Blake is his smile, and his Instagram page is covered in them. Some guys post brooding pictures that look way too choreographed, but not Blake. He comes across as a totally chill dude, who loves spending time with his friends and family. In every picture on his Instagram, Blake looks like he's having a blast, and I think it's his infectiously fun personality that has everyone rooting for him this season.
Blake was born and raised in Bailey, Colorado, and played football in college, so it's no wonder that he's a loyal Denver Broncos fan. He posted numerous photos cheering on the team, including one from the Broncos post Super Bowl win parade in 2016, and one paying tribute to the legendary Peyton Manning in which he dotingly captioned:
"Feel lucky to have seen this man in a Bronco Jersey. I don't even know the NFL without him. The game won't be the same. #GOAT #respect"
He's not just a Broncos fan. Blake has posted stadium pics from numerous sporting events, including a Colorado Rockies game, a Nebraska Cornhuskers game, and an NHL game between the Detroit Red Wings and the Colorado Avalanche at Coors Stadium. He even posted a few pics of himself on the golf course, and one adorably candid one of him cheering in the stands during the Denver Derby. Along with being a huge sports fan, it looks like Blake loves the outdoors as well. He posted an adorable picture of himself with his pup Remi hiking on Bailey Mountain, and another of him with friends rafting during what he captioned the "second annual Huck Finn Experience."
Most of Blake's Instagram posts, however, are of him smiling and laughing with his family and friends. It looks like he's super close with his sister, as he has tons of adorable pictures of them together on his page. In one birthday post for his sister, Blake adorably captioned:
"Happy Bday to this chick! 23!?! Jesus its like your 3 years and 2 days younger than me...thanks for being my best friend and dancin partner. Hurry up and graduate so we can bring our Shenanigans back to Denver #ooooold #shotsshotsshots"
While he didn't get a first impression rose on the first night they met, Blake did seem to leave a good impression on Becca. The first time he met her, he rode in on a horse and vowed to help "her get back on the horse" after her horrible breakup with Arie. Then the second time he met her, he rode in on an ox and professed that his love for her "stronger than an ox." Adorable animals followed by hilarious puns, how could she not love him right away?
For now, it looks like he is one of the strongest frontrunners, and in the season promo, there is a scene of him romantically professing his love to Becca. Who knows how things will go, but I sure hope to see more of Blake, his adorable smile, and all the fun and laughs he'll bring this season.