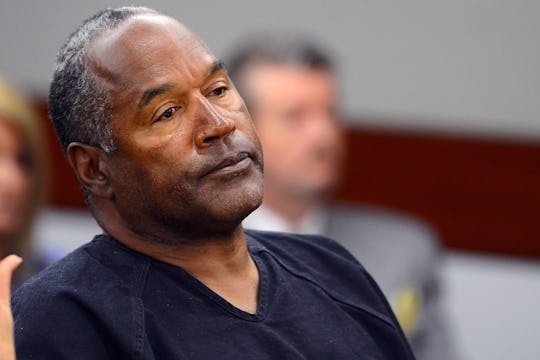 Ethan Miller/Getty Images News/Getty Images
Blood-Stained Knife Uncovered At OJ Simpson's Estate — REPORT
According to the New York Post, a construction worker allegedly found a blood-stained knife on O.J. Simpson's property, not recently, but "years ago." In January, it was finally turned over to LAPD's Robbery Homicide Division. The weapon, a folding knife, is now being tested for DNA and fingerprints to see if indeed it has any connection to the iconic murders of Nicole Brown Simpson and her friend, Ronald Goldman. Simpson was acquitted of both murders in 1995.
Though the knife appears to have blood residue on it, it's also extremely rusted, old, and stained, so any visual clues are inconclusive. Sources told TMZ that the knife will be tested at the LAPD's Serology Unit soon, but even with sophisticated testing, those results may also be inconclusive because of the amount of time that has passed since the crime and the amount of time the knife has been in others' possession.
The story for how the knife finally got into the hands of law enforcement officials is full of twists and turns. According to the construction worker who found it, the knife caught his eye when Simpson's home was being demolished. He couldn't recall the exact date he found it when questioned by the police. Apparently, after he found the knife he handed it over to a police officer who happened to be near the property during the demolition. Whether this officer failed to take the knife seriously or whether he had ulterior motives, it's unclear; but what is clear is that, instead of bringing the knife to the attention of LAPD investigators, he reportedly kept it for years.
In late January of this year, that same police officer was preparing to retire. He contacted a friend in the homicide and robbery division only to tell him in passing that he was thinking of getting the knife framed for his wall. Allegedly, that was the first time the department was made aware of this long-lost piece of evidence and it demanded it be handed over to the department for investigation.
Though the case was many years ago, since the recent debut of the popular FX show The People v. O.J. Simpson: American Crime Story, it's come back into the public eye. The show has managed to appeal to those who followed the case, and those that did not, but even with a renewed interest in the body of evidence presented in that show, and now, possibly, with this knife, it's unlikely that Simpson would sit trial again after being acquitted.