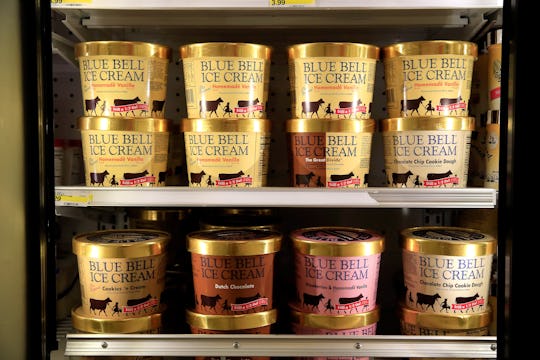 Jamie Squire/Getty Images News/Getty Images
Blue Bell Recalls Ice Cream Following Potential Listeria Outbreak
Ice cream is one of life's best simple pleasures — it's especially great in the warmer months but incredibly delicious year round. There is nothing better than a tasty bite, either eaten off of an ice cream cone or straight out of the tub with a spoon. Unfortunately ice cream lovers should take note before going to purchase a tub of their favorite from the grocery store, as Blue Bell has recalled ice cream once again, following a potential listeria outbreak that includes two pretty popular flavors.
The voluntary recall thankfully focuses on just the two different flavors (Blue Bell Chocolate Chip Cookie Dough and Blue Bell Cookie Two Step), rather than its entire list of frozen options. But in my opinion, chocolate chip cookie dough is one of the best ice cream flavors, bar none, so this recall is still upsetting nonetheless. And in a recent poll, the Today show found that cookie dough was one of the most tweeted about ice cream flavors in states like South Carolina and New York — so cookie dough lovers everywhere should check their refrigerators before digging their spoon into the flavor, just in case their batch was one of those affected.
The voluntary recall, which affected batches distributed in mostly southern states, calls for Blue Bell consumers to check pints and half gallons of the Chocolate Chip Cookie Dough and Cookie Two Step flavors with certain number codes on them. According to ABC News, owners of the recalled ice cream can return the ice cream to the place of purchase for a full refund.
Blue Bell released a statement about the recall on its Facebook page Wednesday, noting the specific codes included in the round-up:
Out of an abundance of caution, we are voluntarily recalling select products that contain a chocolate chip cookie dough ingredient. Aspen Hills, Inc., who supplies us with this ingredient, has issued a voluntary recall on select lots of chocolate chip cookie dough supplied to Blue Bell. No illnesses have been reported to date, but Blue Bell is taking this step because we remain committed to producing a safe, high-quality, great-tasting ice cream for you and your family to enjoy.
The recall is limited to Chocolate Chip Cookie Dough half gallons with the code date 082618226, Chocolate Chip Cookie Dough pints with the code dates 081518242 and 082418242, and Cookie Two Step half gallons with the code dates 080418222 and 081818224. These code dates can be found on the bottom of the carton. The recalled ingredients were used in products distributed in Alabama, Florida, Georgia, Kentucky, Louisiana, Mississippi, North Carolina, South Carolina, Tennessee and Virginia.
According to the official statement on Blue Bell's website, Blue Bell identified the problem through internal testing. Despite no reported illnesses, Blue Bell is "initiating this recall out of an abundance of caution." This caution comes on the heels of a 2015 Blue Bell listeria outbreak, which, according to the FDA, called for the voluntary recall of all of its products on the market at the time.
Those who purchased the ice cream who are concerned that they've been affected should look out for possible symptoms of listeria contamination, which include fever, nausea, headache, muscle stiffness and abdominal pain, according to the Blue Bell website. Before consumers dig in to their next pint, they should make sure that they're reading ice cream labels in their freezer — just in case this recall pertains to them.