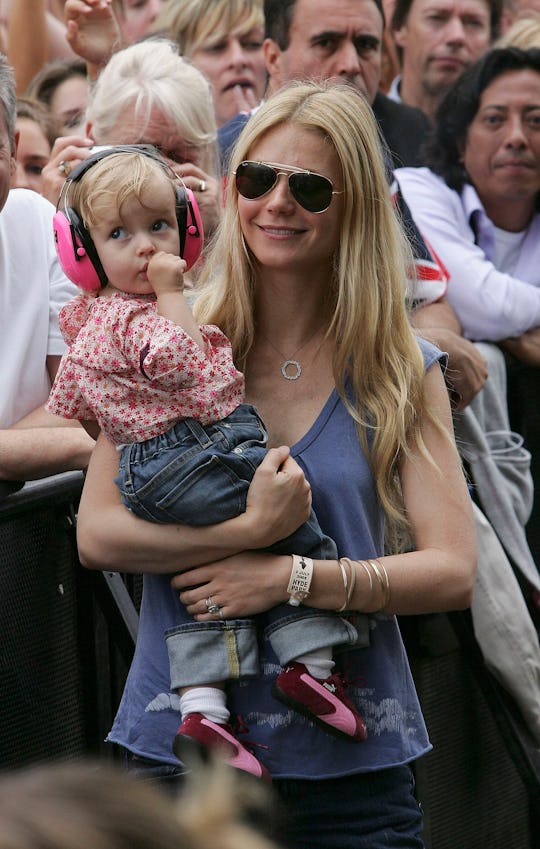 MJ Kim/Getty Images Entertainment/Getty Images
Blue Ivy & Apple Martin's Birthday Party Hangout Is The Best Thing Ever
Move over, Taylor Swift and Karlie Kloss: there's some new squad goals in town. Namely, Blue Ivy Carter and Apple Martin, the adorable duo whose friendship has taken over the internet. Just a few months after their hand-holding Super Bowl picture spread like wildfire, the girls are at it again. This time, it's with a heart-melting picture of Blue Ivy and Apple Martin's birthday party hangout, shared by Gwyneth Paltrow on Instagram Saturday night.
It was quite the occasion: Apple turned twelve (do you feel old yet?), and had a group of friends over for a birthday brunch (and, judging by the mattresses in the background, a sleepover, too). Paltrow captioned the snap, "Birthday brunch squad#godsistersandbesties." Four-year-old Carter was part of the fun, despite a seven-year age gap between the two girls, and featured prominently in Paltrow's picture.
Carter and Martin's friendship was first introduced to the world after Paltrow shared a picture of the two at Super Bowl, where Carter's mother (Beyoncé, in case you've been living under a rock) and Martin's father (Coldplay's Chris Martin) performed the halftime show together. It was too much cuteness in one photo, and now Paltrow has given the world what they want — e.g., more adorable kid pictures.
The friendship might surprise you: who knew that Goop's creator and the mastermind behind Lemonade were friends? But Gwyneth Paltrow and Beyoncé have actually been close for years now, supporting each other at events and spending time together outside of the public eye. "She is incredible; she's a great friend on every level," Beyoncé told E! News about Paltrow in 2013. "I think for us, protecting our daughters is so important and… keeping things on our own terms, so I will still be protective and make sure [Blue Ivy] has a childhood and a great time."
In turn, Paltrow has also said great things about Beyoncé and Jay Z — with a cute little aside about Blue Ivy, as well:
The greatest perk of being their friend, is that I have a relationship with people who are also—who have similar... I mean, obviously I'm not as famous or successful as they are. But I do have a life in the public eye and I have people to sort of walk through life with in that capacity, and they're very kind and loving people. And it also means I get to be around their daughter.
With parents that close and supportive of one another, I have a feeling Blue Ivy and Apple will be friends for a long time.