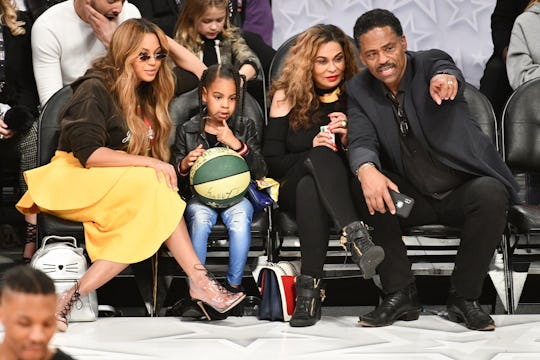 Allen Berezovsky/Getty Images Entertainment/Getty Images
Blue Ivy Is Every Kid In This Video Of Her Busting Tina Knowles Lawson For Breaking The Rules
Setting and enforcing rules is something that not only keeps kids safe, it also helps keep caregivers sane. With that said, it's natural for young children to selectively follow certain rules (like jumping on the couch when they think no one is paying attention). But by golly, they will be the first to point out when other people aren't doing what they're supposed to. Sometimes, this can be extremely inconvenient — like when you're trying to sneak in snacks and candy at the movie theater. Of if you're Tina Lawson "illegally" recording a video at the Paris ballet. That's because Blue Ivy busted her grandma for breaking the rules, and the video is so relatable.
Recently, Beyoncé Knowles' mother, Tina Lawson, was filming herself marveling over a Paris theater, where they were getting ready to watch the ballet, Elle reported. "I'm in Paris, France, and I'm at the most beautiful theatre I've ever seen in my life about to look at the ballet. It's a walking ballet, it's so cool," Lawson said, according to the Daily Mail. As Lawson was showing off the beautiful architecture, viewers can clearly hear Blue Ivy ratting out her grandma. "You're not supposed to take videos, Grandma! You're not supposed to," the 6-year-old insists, as Lawson completely ignores her and continues talking. (LOL.)
"Such a gorgeous theatre," Lawson eventually says toward the end of her clip. "The architecture is beautiful. Really pretty." Despite Lawson's blatant disregard for the rules, the famous grandma went ahead and posted the video Wednesday on Instagram. She captioned masterpiece with, "When you are trying to sneak a video," along with a laugh-crying emoji for good measure.
Of course, plenty of Instagram users thought it was funny — and not to mention, an all-too-relatable moment. "Hahaha! Busted grandma," one follower commented.
"These kids will snitch on all of us," another person wrote. "I thought Grandmas could make it, but no."
"If you snuck in food...don't tell Blue," another follower warned.
"Haha awwww kids always ratting ya out," yet another commented.
Still, not everyone could relate. (Because the internet.) Other Instagram users viewed Blue Ivy's behavior as disrespectful, and they took Lawson's video as an opportunity to criticize Beyoncé and JAY-Z's oldest child.
"Raising a rude and spoiled little monster," one disgruntled follower commented. "Money don't buy class."
"Tina tell her to hush up!" another person urged. "Yall are the grown ups stop letting blue tell u and her parents wat to do OMG SHE'S A LIL GIRL."
Um, wow. Personally, as a parent, I thought the video was funny and relatable. Because kids Blue Ivy's age — like my son — apparently take great delight in calling people out who aren't following the rules. For example: The first few times he was aware that we weren't technically supposed to be bringing outside snacks into the movie theater, he was highly concerned about my smuggled treats. And he made it a point to scold me loudly while inside the theater. It's a weird thing, though, if you think about it. Although my transgression was "harmless," purposefully breaking rules in front of your own kid seems like a slippery slope.
Of course, Blue Ivy ratting out her grandma isn't the first time she revealed her adorably authoritative side. Back in January, Bey and JAY-Z's eldest child hilariously shushed her parents when they were clapping during the Grammy Awards, Us Weekly reported. The power couple was reportedly clapping during Camila Cabello's moving speech at the time — and it isn't clear whether Blue wanted her parents to let her finish before applauding, or if the clapping was just too loud. Either way, the clip is pure gold.
I mean, what parent hasn't had their child try to shush them out of embarrassment? Or point out when rules are being broken? It kind of seems like a universal thing to me. Which is precisely why I suspect the internet strangers throwing shade at Blue Ivy for being "bossy" or "disrespectful" aren't actually parents. It's cute and harmless; take a chill pill, folks. Besides, for a 6-year-old having to sit through boring adult situations, I'd say her behavior is more than appropriate.