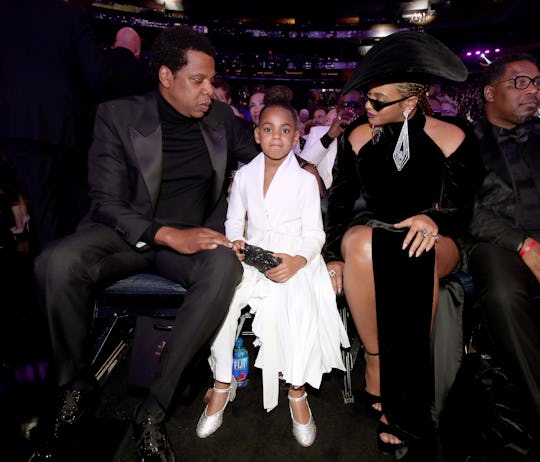 Christopher Polk/Getty Images Entertainment/Getty Images
Blue Ivy Carter Has A Personal Stylist & Is Officially The Most Fabulous 6-Year-Old
Beyoncé is queen — this is a known fact. But people need to be watching for her daughter, Blue Ivy Carter, who could be coming for her throne — not that they haven't or don't know this already. Beyoncé 2.0 might only be six years old but her life is really just as fabulous and great as you could imagine. It should be known by now that being the offspring of Beyoncé and JAY-Z comes with perks, especially since it was just revealed that Blue Ivy has her own personal stylist, officially making her cooler than most people (including almost all six year olds).
When kids dress themselves, they tend to put a lot of personality into their decisions and although their outfits might look cute to themselves, they can be a little messy. This is emphasized especially when you look back at old photos of yourself as a kid and wonder who dressed you (hint: it's not your parents who picked out that striped shirt to go with those zebra leggings). So you really can't blame Blue Ivy for having her own personal stylist — yep, a person who works for her to pick out the perfect outfit for her.
On Thursday, Blue Ivy's personal stylist — Manuel A. Mendez — revealed his identity to Women's Wear Daily, according to Cosmopolitan, and officially confirmed that he styles and shops for Blue Ivy. Talk about a dream job.
If you're wondering who Mendez is and how he got such a great job, it's not likely that you will find an answer. According to Women's Wear Daily, both Mendez and the Carter family refrain from talking or saying too much about Blue Ivy. But what is known is that Mendez had worked as one of Beyoncé's personal assistants before getting the honor to have the super cool title as Blue Ivy's stylist. If you needed proof, Mendez's Instagram account is full with photos of some Blue Ivy's most iconic looks, all done by Mendez himself.
But while Blue Ivy's looks may be super stylish, her personality matches her pretty great and outrageous outfits. Like the time when Blue Ivy showed up to the 2018 Grammy Awards with her parents (fashionably late, of course) looking so grown up in that beautiful white trench coat — that was styled by Mendez. While the look was super memorable, what really stole the show was when Blue Ivy leaned over to stop her parents from clapping during a presenter's speech.
Mendez is also behind Blue Ivy's beautiful gold party dress that she wore to the Wearable Art Gala in Los Angeles last month, according to Cosmopolitan. And while her dress definitely stole the show (which is hard to do when Beyoncé is your mom), the shenanigans she got into at the definitely caught the attention of other people, too. At the gala, according to Page Six, Blue Ivy made several bids on art at the gala, including a $17,000 bid on a portrait of actor Sidney Portier.
Dressing Blue Ivy might become a task for Mendez, especially as she gets older and her personality gets even stronger. This past week, during an interview with David Letterman, JAY-Z revealed that Blue Ivy continues to impress him with her personality at her young age. JAY-Z told Letterman, according to E! News:
I told her to get in the car the other day because she was asking a thousand questions and we had to leave for school. We're driving then I hear a little voice — "Dad. I didn't like when you told me to get in the car the way you told me. It hurt my feelings." I was like, "That's the most beautiful thing you've ever said to me."
Blue Ivy's personality and fashion styling are already so on point for someone so young, it's hard to imagine it can get any better. But knowing Beyoncé, Blue Ivy, (and now Mendez), it can only go up from here.