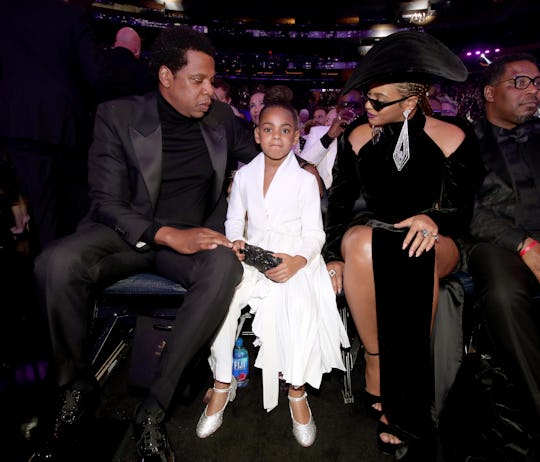 Christopher Polk/Getty Images Entertainment/Getty Images
Blue Ivy's Surprise Cameo On Beyoncé & JAY-Z's New Album May Be The Best Part Of The Whole Thing
Between showing off never-before-seen videos of their 1-year-old twins, Rumi and Sir, during their On The Run II tour to unexpectedly releasing a joint album, Everything Is Love, on Saturday, Beyoncé and JAY-Z are getting quite the reputation for being full of (amazing) surprises. Need further proof? On the third song on Beyoncé and JAY-Z's new album, 6-year-old Blue Ivy makes a special appearance on the song "Boss," and her cameo is as perfect as you'd imagine.
OK, so all of the songs on Everything Is Love are brilliant, of course, especially since the lyrics on the album tackle some very important life moments, as reported by People, giving fans deeper insight into their life as a couple. But perhaps the most exciting parts of the album are when they give fans a peek into their life as a family of four. After all, Beyoncé and JAY-Z are parents to their oldest daughter, Blue Ivy, and their twins, who just turned 1 year old last week, according to People.
Which is why fans will especially love hearing the third track on the album, "Boss", since it features a very special shoutout from the one and only Blue Ivy, according to E! News. Throughout the song, Beyoncé talks about how she is killing the game and talks about the legacy she plans on leaving to the next generation of the Knowles-Carter family. "My great, great, grandchildren are already rich," Beyoncé raps. "That's a lot of brown children on your Forbes list."
But perhaps the most exciting part of the song happens in the last few seconds, when Blue Ivy takes over and gives the sweetest shoutout, as E! News reported. "Shoutout to Rumi and Sir," Blue Ivy says on the song, which was uploaded to Twitter by one user, according to E! News. "Love, Blue."
Blue Ivy's shoutout isn't the only reference to herself (or her siblings). In the same song, Beyoncé also raps about dropping Blue Ivy off at school (how relatable), according to People. "Droppin' my daughter off at school every morning/we slammin' car doors," Beyoncé raps in the song.
Based on Blue Ivy's brief cameo in this song, it's almost as if she is very aware that she and her siblings are bosses (and she isn't wrong at all) — especially since this isn't the first time that Blue Ivy has been featured on one of her parents' songs. When JAY-Z dropped his album, 4:44 last summer, Blue Ivy was featured on a bonus track, called "Blue's Freestyle/We Family" on the album, according to ABC News. In the song, Blue Ivy got 45 seconds to freestyle and show off the talent that her parents bestowed to her. "Never seen a ceiling in my whole life/Everything I seen, everything is rotten," Blue Ivy raps on the song, according to Genius.
On the song, "Nice" on Everything Is Love, Beyoncé praises her daughter's lyricism by quoting her freestyle, according to E! News. Beyoncé sings:
I ain't ever seen a ceiling in my whole life/That's word to Blue/Freestyling live, blueprint from my Jigga who never bribes/I'm so n-i-i-ice
But Blue Ivy is no stranger to being on the charts. In 2012, Blue Ivy was featured for the first time on her dad's song, "Glory" at just a few days old, according to TIME, in which her cries could be heard on the song.
With this many songs under her belt already, it's only a matter of time before Blue Ivy puts out a record-breaking album of her own. Now, when will the twins be old enough to get their own feature?