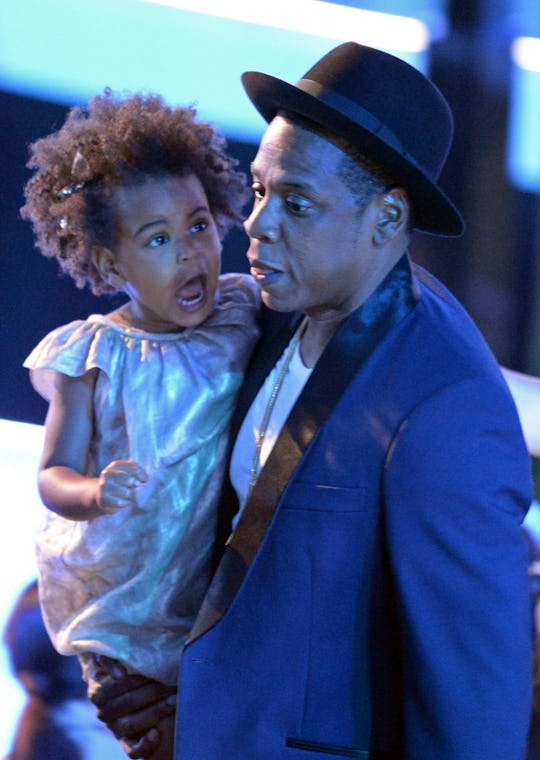 ROBYN BECK/AFP/Getty Images
Blue Ivy Wagged Her Finger At Paparazzi, Because She Has No Time For Any Of It
Last night the Carter-Knowles family turned out for the CDFA Awards where Beyoncé was being honored with the Fashion Icon Award for 2016. But it's Bey's baby heir that really stood out. Blue Ivy wagged her finger at the paparazzi as she was making her entrance, because she's simply not the least bit interested in posing for photos. She also showed up with her daddy Jay Z, because mom must have been backstage, and the two made an adorable pair.
Blue Ivy was born under the spotlight. For most kids that would be a scary and daunting thing. But somehow Beyoncé and Jay Z have figured out a way to allow Blue to be part of their mega-famous family's public life while keeping her from being completely overwhelmed by the force of it all. I don't know many other 4-year-olds who could walk a paparazzi line with one of the most famous rappers in the game and completely own the entire moment. For any other kid, that would be a totally freaky experience, but that's just Blue Ivy's life. She walks down the street and everyone goes bananas. Whatever. But Blue's had a pretty decent role model for taking it all in stride. Her mom is Beyoncé, after all.
Here is Blue walking in and giving the paparazzi a good finger wagging.
Now some people could look at that and see a little girl saying "no" with a sense of fear or anxiety about all the cameras. But that's not what I see. I see a little girl mimicking her mama, who I can only imagine wags her finger at people with cameras all the time, signaling when it's just not the time to snap a pic. And I bet they listen. This is a little girl who's used to watching her mother move the world with little more than the point of a fingertip, and it's plain to see Blue is going to be every bit the boss her mom is.
Handing down love and lessons in strength and skill from mother to daughter is a big theme for Beyoncé. She even took the time during her speech accepting the CDFA award to thank her grandmother, who worked as a seamstress, and her mother, who sewed Destiny's Child's costumes when they were starting out, according to a video on Periscope.
...High-end labels, they didn't really want to dress four black, country, curvy girls. And we couldn't afford designer dresses and couture. My mother was rejected from every showroom in New York. But like my grandmother, she used her talent and creativity to give her children their dreams. My mother and my Uncle Johnny, God bless his soul, designed all of our first costumes and made each piece by hand, individually sewing hundreds of crystals and pearls, putting so much passion and love into ever small detail. When I wore these clothes on stage I felt like Khaleesi. I had an extra suit of armor. It was so much deeper than any brand name.
Yep, she stood on that stage and called out the fashion industry for the crap way they treated her.
And I like to think that, just like Tina Knowles, Beyonce's mother, the Queen herself is wrapping her daughter in her own suit of armor for strength. She's got to prepare her little Blue to grow up in a world where she will be known and photographed everywhere she goes. But those two obviously know a secret the rest of us don't, and that's how to control crowds of adoring fans screaming your name with no more than the wag of a finger.