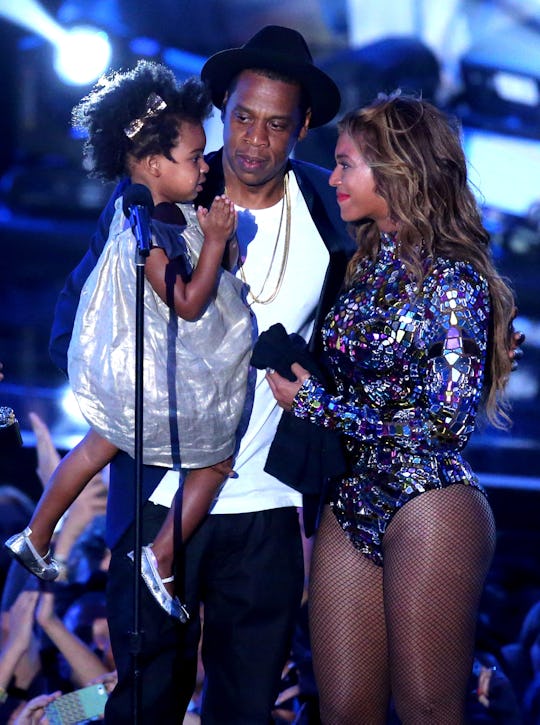 Mark Davis/Getty Images Entertainment/Getty Images
Blue Ivy's Dance Recital Video Shows Beyonce's Daughter Knows How to Slay On Stage Too
Blue Ivy has grown up watching her very famous mom own the stage with more than a few of her powerhouse dance moves. So it really shouldn't come as a surprise to anyone that Beyoncé's baby is working on her own dance skills. Over the weekend, the Knowles-Carter clan treated fans to a peek at Blue Ivy on stage at her dance recital moving to "You Can't Stop the Beat" from Hairspray and little lady kills it. I don't know if Blue, now 4 years old, is just way ahead of the other kids in memorizing the steps or if the otherworldly sparkle of Beyoncé in the audience is throwing off all the other baby dancers, but Blue really looks like the only one of the kiddos who remembers all the steps. A budding little superstar in a tutu. Would we have expected anything less? Hardly.
Most recently, Blue made an appearance in the "Formation" video running around in circles. Could a world tour of her very own be that far behind? Little Blue Ivy is every bit her mom's girl. How long until we start seeing Blue backing up her mom in the chorus? Well, she'll probably need to finish kindergarten first. Take a look at Blue doing her thing.
This isn't the first time Blue has been the spitting image of her mom. Here's a side-by-side created by a devoted fan of Blue and Bey.
And here's a more recent side-by-side of the proud mom and her mini-me.
Little Blue Ivy also looks a lot like her dad when you see them together.
Here she is backstage learning all the latest makeup tips.
I can't be the only one completely gaga over Blue Ivy, and I have to take my wide-brimmed Lemonade hat off to Bey and Jay for giving their baby her very own moment in the spotlight. It's got to be hard to see both mom and dad take the stage time and again and constantly have to stay backstage, behind the curtain. Over the weekend, Blue was every bit the star of the show, along with her own squad of girls, and it's a blast to watch Beyoncé's little girl grow up right in front of our eyes. Blue's parents have also been able to pull off letting the world watch their beautiful baby girl grow up, while still keeping her — besides occasionally sharing a few choice moments — safely out of the spotlight.
It's got to be a tough line to walk. How do you live an incredibly public life with endless fan attention without either ruining your kid's childhood with constant public interference and scrutiny? The alternative is hiding her away, something along the lines of Michael Jackson's son, who came to be known publicly as "blanket" because he was always covered up. It's not easy to be ultimately famous and raise one of the most recognized kids in the world. But Jay and Beyoncé seem to have it all under control.
As if we would have expected anything different. Heck of a job you two. Your little girl is perfection.