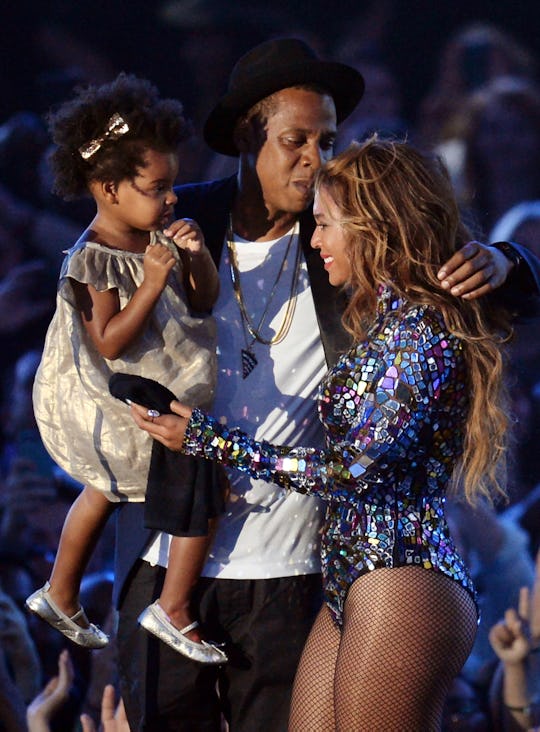 ROBYN BECK/AFP/Getty Images
Blue Ivy's Lemonade Dress Is Your Summer Wardrobe Goals
If you thought you were fan-girling hard for Beyoncé's Lemonade album and film, her daughter has you beat. On Thursday, Tina Knowles, her grandmother, posted a picture of Blue Ivy's lemonade dress at the kickoff to the Formation tour and it is probably the cutest thing ever. Knowles captioned the photo saying "My Beautiful Grandaughter celebrated her moms lemonade visual Album" alongside the shot of Blue leaning over a couch in a lemon-printed dress. It's already a pretty cute dress, but the solidarity is what totally completes the look.
Blue is apparently an old hat at this touring stuff, too. Beyoncé posted pictures on Wednesday of her and her daughter hanging out on-stage during rehearsals. Onstage that night, Bey reportedly told a story about driving to rehearsals and Blue asking her, "Mommy, are we going to your work?" Adorable. If only bring your daughter to work day was always that cool. Her daughter isn't the only one in the family feeling the Lemonade vibes, either. Tina Knowles posted pictures last weekend of her and daughter toasting the world premiere with actual lemonade. Her mom sounded pretty proud, captioning a photo, "B worked so hard on this project day and night!" she wrote. "It was soo important to her to offer something that would bring about healing and hope to the universe!" she wrote.
Nothing beats the family vibes surrounding this album, especially since it chronicles a tough time in Beyoncé and her husband Jay Z's marriage. Despite all the drama surrounding the release of the album and "Becky with the good hair," everything has apparently returned to normal for the family. Although he didn't take the stage for "Drunk in Love," Jay was front and center for her Miami show on Wednesday night, as always.
Bey also dedicated the song "Halo" to her "beautiful husband" at the concert, much to some fan's chagrin. Reportedly, Jay has been getting booed by fans since the release of the visual album. A source told Hollywood Life that the rapper was getting an "awful reception in Miami that would make even LeBron James feel bad." The source said that everywhere Jay went, he was getting "stank" faces. Whether that's true or not is up for debate, but it is pretty funny.
Between Tina Knowles and Beyoncé toasting the premiere with mason jars of lemonade and Blue Ivy rocking a printed dress, it looks like Lemonade will haunt Jay Z for longer than he might have expected.