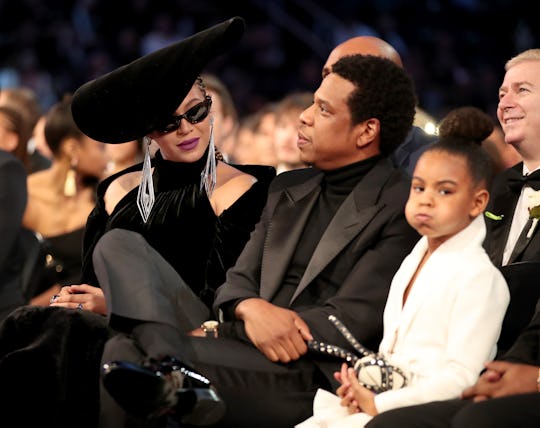 Christopher Polk/Getty Images Entertainment/Getty Images
Blue Ivy Had The Most Hilarious Reaction To Seeing Her Parents In Bed Together — VIDEO
It can be easy to forget that the firstborn daughter of JAY-Z and Beyoncé Knowles, America's answer to Prince George, is actually a human child. But believe it or not, there have been a few times when she acted like a normal, everyday kid. Most recently, Blue Ivy's reaction to seeing her parents in bed, will remind you that despite her considerable fame and fortune, she's really just like every other child her age. I mean, not exactly like them, because let's face it, the girl probably owns toys that are worth more than your car, and she was the subject of at least two tabloid rumors before she was even born (the mysteriously folding belly and Lenox Hill Hospital takeover, in case you'd forgotten).
So yeah, Blue does a few things that your kid probably doesn't. She attends art auctions — she lost out on a painting of a young Sidney Poitier to Tyler Perry, who topped her $19K bid by a grand, according to Us Weekly — and she wore a $5,000 dress to a wedding last year, which is much, much more than my actual wedding gown is worth, and come to think of it, probably more than my kid's entire wardrobe, too. But money isn't everything, so when there's no price tag associated, Blue tends to act just like your kid probably does.
When Her Parents Get Romantic
At JAY-Z and Beyoncé's On the Run II tour in London last week, Blue was not a very happy concertgoer when the crowd was treated to a video interlude featuring her parents in bed together, according to Us Weekly. I mean, sure, your kid will probably never have to watch a video of you and your partner in the sack along with thousands of strangers, sure, but just apply it to, like, kissing in the kitchen. The layers of emotion that unfold on her face are all too real. They are, if I may be so bold as to put words in her mouth, "Whaaa...?" followed by "Ew," then "Oh, no, no, no," then, "I can't," and finally, "PEACE." Just like any other kid would.
When Grownups Break The Rules
Any parent will tell you it's very challenging to get a kid to follow the rules when they've seen you break them before. Maybe your kid busted you for going 2 miles over the speed limit, lying to the dentist about how often you floss, or some other minor infraction. If your child was also lucky enough to attend a ballet in France with your mother, and she whipped out her phone to document the occasion on Instagram, like Tina Lawson did, perhaps she'd get a similar reaction to Blue's: "You're not supposed to take videos, Grandma! You're not supposed to!" Keep your voice down, girl!
When She's Trying To Enjoy Herself
Whether she's attending the Grammys and has had it with all that clapping, or trying to watch the NBA All-Star Game without some rap guy from the '90's blocking her view, Blue isn't shy about shushing, scolding, or otherwise schooling her parents. If you've ever tried to talk to your kid about their homework when they're in the middle of a very important YouTube video, you've seen this move before. Rude? Sure. But kind of adorable, too. Just don't ever let them know that.
That Time She Had A Fairy Warrior Party
Kids' interests are vast and varied, and sometimes that means you're tasked with throwing a birthday party with a super weird theme. But to be honest, who wouldn't want to be a winged archer, if given the chance? That's a party any kid can get behind. And considering the fact that other celebrity kids have had Great Gatsby themed-parties (oh, the irony), or dined on Marie Antoinette's disembodied head rather than the traditional Funfetti cake, Blue is looking very normal, indeed.