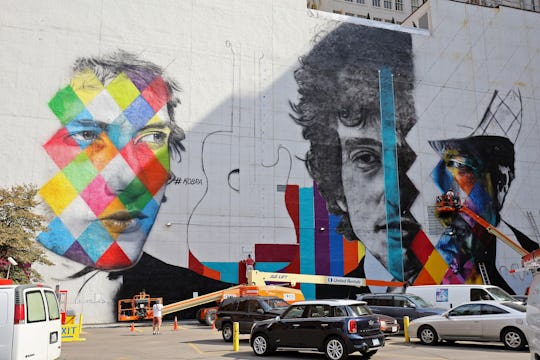 Adam Bettcher/Getty Images News/Getty Images
Bob Dylan Wins The Nobel Prize In Literature, & His Fans Are So Proud
Today is a really big day for singer-songwriters, and also your dad. Bob Dylan has won the Nobel Prize in Literature "for having created new poetic expressions within the great American song tradition," according to NPR. Dylan is the first American to win the Literature prize since novelist Toni Morrison in 1993, and the first musician to ever win the prize ever, after having being nominated for it the last 15 years in a row. He is also the 99th man to win. Only 14 women have ever been awarded the Nobel Prize in Literature, but now that Dylan has at least opened the door for singer-songwriters.
Addressing the press during the announcement on Thursday, Sara Danius, the permanent secretary of the Swedish Academy, said Dylan is "a great poet in the English-speaking tradition." By way of explaining the reasoning behind the committee's decision to choose a musician, she compared Dylan to the Greek poets Homer and Sappho, who "wrote poetic texts that were meant to be listened to, performed, often together with instruments." Danius argued that Dylan's work "can be read and should be read," and in fact, his lyrics have been published in book form.
Born in 1941, Dylan is often credited with ushering in the era of the singer-songwriter in American popular music. The tradition had long existed among blues, country, and folk musicians, but when Dylan stepped onto the stage at the Newport Folk Festival in 1965 with an electric guitar, he effectively created a whole new genre. The musician was well aware of his contribution; soon afterwards he proclaimed, "Tin Pan Alley is gone. I put an end to it. People can record their own songs now." The term Tin Pan Alley originally referred to a district in New York City where songwriters and music publishers were housed in the early 20th century, and later came to mean the popular songwriting industry as a whole.
Over Dylan's prolific 54-year career, he's published nearly 40 studio albums. Counting live albums, compilations, and collaborations, the number is more than 80, and at 75, he shows no signs of stopping or even slowing. He's even too cool for President Obama, who revealed that he's a Dylan superfan to Rolling Stone in 2008, the same year that Dylan won a Pulitzer Prize to keep alongside his many, many Grammys. When he eventually performed at the White House's Celebration of Music from the Civil Rights Movement concert in 2010, he didn't even want a photo with the Commander-In-Chief. And when he was awarded the Presidential Medal of Freedom, the country's highest civilian honor, two years later, he seemed completely unimpressed. Maybe the Nobel, with its accompanying $900,000, will be a little more interesting to the singer.