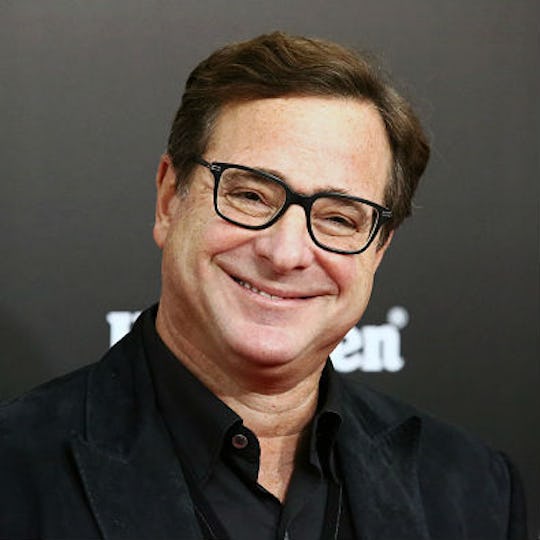 Astrid Stawiarz /Getty
Bob Saget Comments On Bill Cosby, Saying It's Hard To "Separate" His Work From His Alleged Actions
Early on in his career, Bob Saget considered Bill Cosby an early influencer and mentor. Both actors attended Temple University, both made (and cultivated) their fame via the comedy circuit, and both shared a mutual and earned respect for one another. That is, of course, until recently. In an interview with Huffington Post Live about his role in the upcoming Broadway show Hand To God, Saget talked about the allegations against Bill Cosby. "Any human being that does things that are despicable to other human beings will be slightly tarnished by history," Saget said during his segment. More than 50 women have come forward in the past year, claiming Cosby drugged and sexually assaulted them. Saget feels these horrific allegations cannot — and should not — be overlooked.
"I think the answer is obvious — that the man has been tarnished — and it's just sad for all of the people involved." It's also obvious that, while Saget seemed genuinely upset with Cosby and his alleged actions, he seemed to be towing a line drawn and perpetuated by rape culture. The idea that a man's reputation is as valuable as a woman's entire body is as flawed as it is disheartening. For Saget to claim that Cosby's legacy will be but "slightly tarnished" is to suggest that alleged sexual assault — let alone the alleged sexual assault of a staggering and upsetting 50 — is still minuscule when compared the public appearance and persona of a celebrity male.
Even Saget's closing comments concerning Cosby and the many allegations against him speak to a larger, more widespread problem. "I had respect for Cosby because he changed stand-up comedy, and he was amazing on I Spy years ago," Saget said. "So you do find out the people you look up to, unfortunately, they're down off their throne when things like this happen."
Still, Saget speaking out against his mentor is a shift in overall culture perspective, and proof that society (in general) is becoming less and less accepting of sexual assault allegations. Regardless of who it is committed by.
Romper has reached out to Bill Cosby for comment, but have yet to receive a response, though the comedian has always maintained his innocence amidst the claims. (Said Cosby via a rep when allegations first arose in November 2014: "Over the last several weeks, decade-old, discredited allegations against Mr. Cosby have resurfaced. The fact that they are being repeated does not make them true. Mr. Cosby does not intend to dignify these allegations with any comment. He would like to thank all his fans for the outpouring of support and assure them that, at age 77, he is doing his best work. There will be no further statement from Mr. Cosby or any of his representatives.")
Saget isn't the only celebrity to voice his concern and disappointment with Cosby since the allegations started surfacing. Here are just some of the celebrities who have taken to Twitter to condemn the comedians actions.