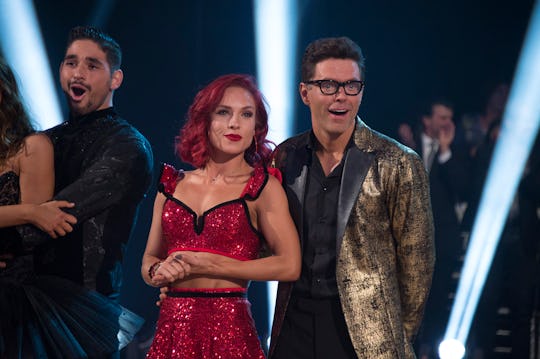 (ABC/Eric McCandless)
Bobby & Sharna Won DWTS & People Are *So* Surprised
After a surprising season, this season of Dancing With The Stars finally came to an end on Monday night. With four super strong contenders standing at the end of the show, it was impossible to determine who would take home the mirror ball trophy at the end of the night. And it was kind of surprising that Bobby Bones won Dancing With The Stars on Monday — because it was really anyone's game.
Week after week, Bobby stood out among all of the stars on the cast for his can-do attitude, shining personality, and ability to admit he wasn't the best dancer. It was this humility that fans must have taken a liking to, because Bobby and his partner, Sharna, took home the mirror ball trophy on Monday night and was proclaimed the winner of Season 27.
With his over the top facial expressions and dark rimmed glasses, Bobby was definitely one of the most memorable dancers during this season of the show. Week after week, it was almost impossible to forget his dances, if only because he was so enthusiastic about them. This enthusiasm was contagious through TV screens and inspired people to vote for Bobby and Sharna, also known as Team #BeautyandtheGeek week after week.
But some people didn't think they would actually win. In fact, a lot of people on Twitter couldn't decide how to feel about the results from the finale. Some people were kind of upset.
Like, they were really upset.
Although fans are super angry, there is a reason why Bobby won — his journey throughout the show was so inspiring to fans watching at home, according to Good Housekeeping. No matter what kind of scores he got during the show, Bobby always had a smile on his face and told the judges he would do better. I mean, Bobby was famous for saying "an eight is my 10" during this season — he set his sights on getting reasonable scores, which made him win that trophy.
Everyone loves an underdog, especially one that can make them laugh — and going into that finale, Bobby was an underdog with a penchant for keeping it both real and hilarious on the dance floor. Bobby told Good Housekeeping that he knew the odds were stacked against him:
I think they [the judge's marks and critiques] are fair. I don't think they want me to win, quite frankly. I think the judges want someone who came in with more dance experience to win. But that's why the show isn't about the judges — it's also about the people.
That is exactly why his super loyal fan base ensured that he won — and their Twitter reactions prove that his fan base was strong.
Bobby is right — the show is about the people, and they chose the winner they wanted to see hoist that trophy above his head at the end of the show. If anything, Bobby's win does prove that people have the power and voting is so important, especially on a show like Dancing With The Stars where anything can happen (like when frontrunner Juan Pablo Di Pace got eliminated during the semi-finals last week).
At least Bobby is humble about his win. After the shocking results were announced, Bobby was quick to thank viewers at home and his partner, according to People, focusing on the people who got him to this point rather than himself.
"You are, in very true words, the people's champion, my friend," DWTS host Tom Bergeron said at the end of the show.
That could not have been any more true. Bobby is not only the DWTS Season 27 champion, but the champion for the people. Although some people might not see that, plenty of people at home did — their faith in him carried him all the way to the very end.
Although he might not have been the best or the flashiest dancer this season, Bobby won the title of America's favorite dancer this season of DWTS.