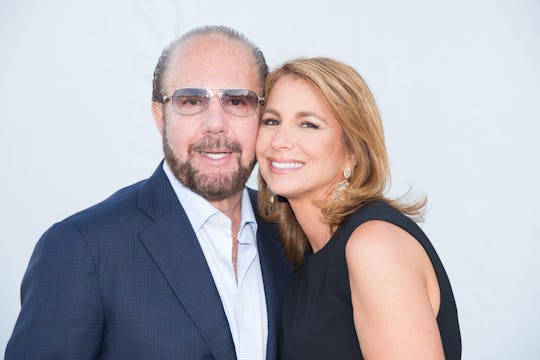 Dave Kotinsky/Getty Images Entertainment/Getty Images
The Women Of 'RHONY' Came Together For Bobby Zarin's Funeral
Jill Zarin was one of the women featured in the original cast of The Real Housewives of New York, but she hasn't been a part of the show for the past several seasons. She previously had a very close friendship with current housewife, Bethenny Frankel, but their falling out was well documented on the show. Jill makes a return in Season 10, but it's for a heartbreaking reason: her husband Bobby Zarin's death brought housewives past and present together on RHONY.
Bobby passed away on January 13, 2018 at the age of 71 after a lengthy battle with cancer. He is survived by Jill, his three children -- Jonathan, David, and Jennifer Zarin -- as well as his stepdaughter, Ally Shapiro. According to People, Bobby was diagnosed with thyroid cancer in 2009 and had surgery to remove his thyroid, then radioactive iodine treatment to destroy any remaining cancer cells. At that point, the family thought that Bobby was in the clear, but his cancer returned several years later. First it advanced to his lungs, then spread to his brain. But his family remained hopeful while he went through Gamma Knife Radiosurgery, with Jill telling People, "He is not going down without a fight. We're hoping for a miracle."
After Bobby's passing, the Zarin family released a statement on Jill's personal website that read:
With the heaviest of hearts, we are devastated to share the news that our beloved Bobby Zarin passed away peacefully today surrounded by family after a courageous battle with cancer. There are no words to describe how heartbroken we are. Thank you, everyone, for all your love and support during this difficult time.
Many RHONY cast members, from past seasons as well as the current one, have expressed support for Jill and her family. Sonya Morgan shared a video tribute with the Daily Dish, offering remembrances of Bobby and his loving relationship with Jill. She called their relationship "incomparable" and said they were "so great together." She was one of a few Housewives who attended Bobby's funeral; Bethenny paid her respects too, as did Dorinda Medley and Aviva Drescher.
During an episode of Watch What Happens Live with Andy Cohen, Jill said that she appreciated so many of the women showing up at the service. She told Extra that while she didn't expect to see Bethenny there, she did hope that Bethenny would come. "In a sad way, Bobby would have liked to have seen us make up," she said. "But I think that his death, in a weird way, he knew that would bring us back somehow together. At least to make peace with each other, which was great."
Bethenny later commented on the memorial on Twitter, writing:
Today is a sad day with a silver lining. I laughed. I cried. I saw old faces & watched a family come together surrounding a loss. 'I have a dream' that Bobby's death makes us realize what is important & treat each day as our last.
Jill has since returned to work at Bobby's company, Zarin Fabrics, though she called the experience "surreal" and "emotional" while talking to Extra. She might not remain in New York for long, however. According to People, she was considering a move to Florida, where she has two homes, but she wasn't planning to rush the decision. Jill was still recovering and taking time for herself, finding solace with family and friends. "It's hard for me to be alone right now and I need to be with close friends and family," she said.
The Real Housewives of New York is a show that's often filled with so much drama that it's lovely to see the women of the series supporting each other in their time of need.