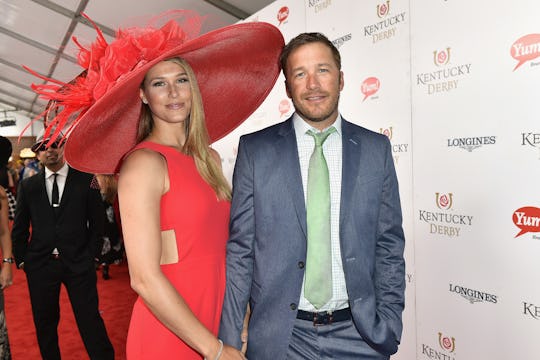 Gustavo Caballero/Getty Images Entertainment/Getty Images
Bode & Morgan Miller Have A Message For Parents After Their Daughter's Drowning Death
It's the kind of tragic accident that no parent ever wants to think about, but now, seven weeks after losing their 19-month-old baby girl, Emeline, Bode and Morgan Miller are speaking out about their daughter's drowning death in an attempt to try to keep other children safe. In an emotional interview with TODAY's Savannah Guthrie, the couple spoke about that unbelievably gut-wrenching day, when Morgan had brought Emeline and her two brothers over to a neighbor's house, only to realize that the toddler had walked outside and fallen into the backyard pool without anyone even realizing she was gone.
The interview is honestly pretty difficult to watch: not only is it clear that the couple is majorly grief-stricken, it's also an uncomfortable reminder that accidents just like these can, and do, happen, even if you are a parent who tries their best to pay attention at all times. The Millers, after all, followed all the things you're supposed to do to keep kids safe: they'd installed a safety fence around their own pool at home, they'd taught their older children all about water safety, and they didn't let them go swimming alone. But on this otherwise completely normal day, they weren't at their own pool — and perhaps most notably, they weren't even outside.
If you've ever turned your head for what feels like two seconds only to realize your child has run off, or flushed his toy truck down the toilet, or smeared peanut butter in the dog's fur, then you're already likely totally aware that young kids are able to do the most unexpected things in the blink of an eye. And that was certainly the case for Emeline: Morgan told Guthrie that she'd been sitting on her neighbor's couch chatting, while her daughter walked back and forth between the living room and the bedroom where her sons were playing. Realizing she hadn't heard Emeline in a little while, she got up to look for her, and that's when tragedy struck. She said,
I turned around and the door that leads to the back yard, that was closed, had this tiny sliver of light coming through the side. And my heart sank and I opened the door and she was floating in the pool.
Morgan said she quickly jumped in and began CPR on her daughter while the neighbor called 911, and when they got to the hospital, doctors had initially told the family that it was possible that Emeline might actually survive. But ultimately, having spent too much time without oxygen while underwater, Emeline died the next day.
Sharing Emeline's story only weeks after her death must have been unbelievably excruciating — and adding yet another unbearable layer to the story is the fact that Morgan is actually currently pregnant, expecting another baby in October. But as hard the interview surely was to give, the Millers said that they did it so they could make other parents aware of the reality of young children's drowning risk, and to bring more attention to the fact that, according to the Centers for Disease Control and Prevention, drowning is actually the leading cause of death to children between the ages of 1 and 4, and the second-leading cause of unintentional injury-related death to children 1-14.
The majority of these deaths, according to the CDC, actually happen in home swimming pools, though infants are more likely to drown in bathtubs and buckets, according to the American Association of Pediatrics. As a result, the AAP recommends that caregivers not only ensure they never leave children alone near water, but that they practice "touch supervision," meaning that an adult should be within arms length of a child at all times near pools, bathtubs, or bodies of water.
As much as that makes sense, it's certainly much easier to say than do, especially if you just happen to be over at a friend's house chatting on the couch and not actually out in the backyard. But in their interview with Guthrie, the Millers emphasized that if the drowning risk for children was at least taken more seriously, then perhaps there could be a better understanding that you don't actually have to be swimming or sitting by the pool for drowning accidents to occur.
Of course, the hard truth about Emeline's accident that is that, like all parents, Bode and Morgan are human, and even the most watchful, well-intentioned parent can't supervise their children perfectly 100 percent of the time. But with drowning being such a pronounced risk, there's no reason why the importance of water safety, safety fences, and touch supervision shouldn't be discussed more often, and considered an absolute priority for all parents.
The fact that the Millers have been brave enough to talk about Emeline's death will hopefully mean that they'll at least be saving other parents from having to experience the same crushing loss. And while that certainly won't make their daughter's death and less devastating, it will no doubt make a huge difference in her memory.