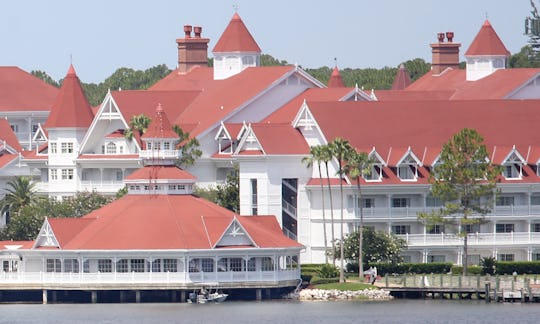 GREGG NEWTON/AFP/Getty Images
Body Of 2-Year-Old Dragged Into Water By Alligator At Disney Resort Has Been Found
After a 19-hour search and rescue effort, the body of the 2-year-old boy dragged by an alligator into the water surrounding Disney's Grand Floridian Resort was reportedly recovered on Wednesday, CNN reported. The toddler's family had been on vacation at the Disney resort and was attending the resort's family movie night when the boy wandered into the lagoon and was grabbed by the gator in just a foot of water, according to witnesses. Both the child's mother and father reportedly attempted to wrestle the animal and pry its mouth open to no avail.
"We know that we are working on recovering the body of the child at this point," Sheriff Jerry L. Demings said in a news conference earlier in the day. "We're going to continue to search until we find the body. [But] we know this is a recovery effort." Florida Fish and Wildlife Conservation Commission Executive Director Nick Wiley added that despite the fact the boy was already presumed dead, authorities would continue searching.
"We're still hopeful that we can help the family find closure," he said. "We've already taken four alligators and looked at four alligators and couldn't find any evidence that they were involved. They had to be euthanized to be analyzed."
Demings added that there were clear "No Swimming" signs posted around the beach, warning patrons to stay clear of the water, and that the boy's sister had been playing in a playpen some 20 to 30 yards from the shore when the incident happened.
During a news conference later on Wednesday, Demings explained that the boy's body had finally been recovered by the Orange County dive team. Although it wasn't immediately clear what the official cause of death was, Demings suggested that the boy had likely drowned.
"Of course the family was distraught, but also I believe somewhat relieved that his body was found intact," Demings said, noting that the gator had likely pulled the toddler underwater and drowned him, returning the body to the same location as before. "The autopsy has to confirm that, but there is likely no question in my mind that the child was drowned by the alligator."
In the aftermath of the incident, many criticized the Disney World resort for what they perceived were shortcoming's in security and patron warning signs, but in a statement on Wednesday, a Disney spokeswoman told The Guardian,
Everyone here at the Walt Disney World resort is devastated by this tragic accident. Our thoughts are with the family. We are helping the family and doing everything we can to assist law enforcement.
The boy's parents, identified this week as Matt and Melissa Graves of Elkhorn, Nebraska, have not yet commented publicly, although a family friend told ABC News that they were thankful to the public's "thoughts and hope-filled prayers."