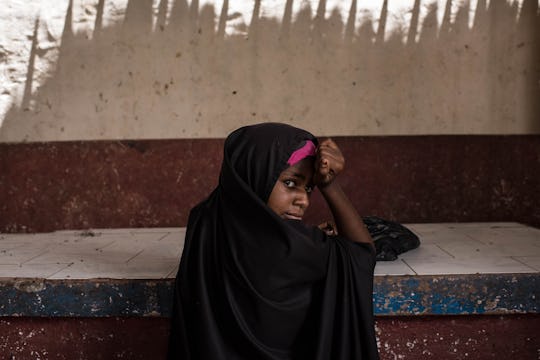 Andrew Renneisen/Getty Images News/Getty Images
Boko Haram Is Behind The Deaths Of Nearly 4,000 Children
A new report from the United Nations indicates that Islamist militants of the Boko Haram terror group are responsible for the deaths of nearly 4,000 children since 2013 until now. As a result of heavily armed violence in Nigeria and in neighboring countries, at least 3,900 children have been killed and 7,300 more have been maimed — and countless other children in the region continue to be brutalized during this ongoing humanitarian crisis.
The alarming rise of the use of children in suicide attacks has claimed the lives of more than a thousand, mostly girls, and at least 2,100 injuries over the four-year long reporting period. Within the first three months of 2017 alone, 27 children have reportedly been used in suicide attacks in Nigeria, Niger, Cameroon, and Chad.
"With tactics including widespread recruitment and use, abductions, sexual violence, attacks on schools and the increasing use of children in so-called 'suicide' attacks, Boko Haram has inflicted unspeakable horror upon the children of Nigeria's north-east and neighbouring countries," Virginia Gamba, the U.N. Secretary-General's Special Representative for Children and Armed Conflict, said in a statement published earlier this week.
The report also said that the U.N. was able to verify that 1,650 children were recruited by the group for various reasons, such as promises of financial security, peer pressure, ideological beliefs, and, in some instances, parents gave them up in exchange for economic gain.
The disturbing report came just days before the terror group released at least 80 of the 276 schoolgirls its insurgents kidnapped from their beds in a boarding school in north-eastern Nigeria three years ago on Saturday, according to the BBC. While families are rejoicing this news, more than 100 of the girls abducted back 2014 have still yet to be returned, the BBC reported.
Boko Haram gained worldwide attention after kidnapping the so-called "Chibok girls" — many of whom are Christian and are believed to be between the ages of 16 to 18 now — which shortly after sparked a global response from celebrities and political figures, like Michelle Obama who famously posed with a white sheet of paper that said: "#BringBackOurGirls".
The U.N. also reported that Boko Haram is not the only group of militants using children. The Civilian Joint Task Force (CJTF) — a group of citizens that was created to assist the Nigerian Security Forces to counter Boko Haram and has also been accused of various abuses — has recruited and used 228 children, some as young as 9 years old, in its response efforts.
As a result of this conflict, millions of children have suffered violence, abuse, and have been killed at the hands of Boko Haram. These numbers are hard to read, but without awareness and worldwide attention to these horrors, these children will continue to be victimized.