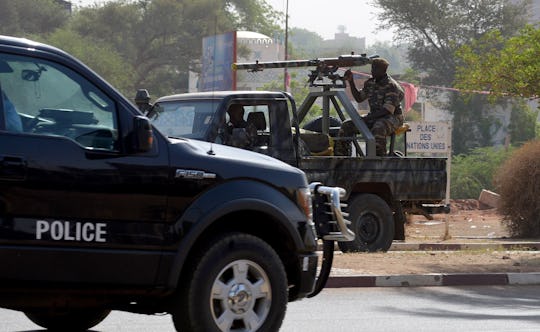 ISSOUF SANOGO/AFP/Getty Images
Boko Haram Is Using Girls As Suicide Bombers & Things Are Likely Going To Get Much Worse
A new report by UNICEF reveals that the world's deadliest terrorist group, Boko Haram, is using young girls as "suicide" bombers with increasing regularity, as part of a new tactic to commit horrendous crimes. The terrorist group has reportedly been forcing youth as young as 8 years old to participate in these suicide attacks, and according to the report, one out of every five suicide bombings in Nigeria, Cameroon, and Chad from January 2014 to February 2016 employed children. Cameroon was reported to have 21, the highest number of suicide attacks that involved children; Nigeria and Chad were recorded at 17 and two, respectively. Three quarters of those children were girls.
"Let us be clear: these children are victims, not perpetrators," Manuel Fontaine, UNICEF Regional Director for West and Central Africa, said in a statement released by UNICEF this week "Deceiving children and forcing them to carry out deadly acts has been one of the most horrific aspects of the violence in Nigeria and in neighbouring countries."
These troubling statistics come two years after Boko Haram abducted more than 270 schoolgirls in Chibok in Borno State, Nigeria. Since then, 1.3 million children have been uprooted in the Lake Chad region, 1,800 schools have been closed, and more than 5,000 children have been separated from their parents, UNICEF reported.
In an interview with The Los Angeles Times, Doune Porter, a spokesperson for UNICEF in Nigeria shared the stories of a girls who had been imprisoned by Boko Haram.
"I met one girl who told me two of her friends were forced to carry out bombings," Porter said. "She said they didn't want to do it. They were forced to do it." Porter continued,
Now, many of them are facing fear from their communities. That's one of the terrible, tragic effects of using children to carry out bombings. When they return to their communities, they very often face stigmatization and isolation because they're seen as being tainted by Boko Haram.
In recent months, the number of child suicide bombers has increased significantly. According to UNICEF's report, there were four estimated child bombers in 2014, which increased to 44 in 2015, 11 times as much.
Just how quickly the problem can be addressed and resolved is largely up to the regional governmental and military forces, as well as the West's willingness or unwillingness to intervene. For now, it seems likely that the horrific atrocities will only continue.